MA Leadership alumna learns how to lead and thrive during challenging times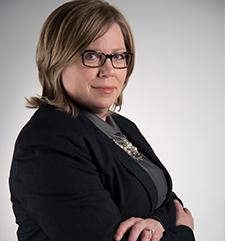 MA Leadership alumna Colleen Sim developed an interest in the positive impact of effective teamwork early on in her career. It is something that has stayed with her over time and ignited her interest in the role of strong leaders in directing team success. After decades of service in a number of mental health and crisis response roles, including executive director of Victim Services of Sarnia-Lambton, Colleen decided to enroll in the MA Leadership program at the University of Guelph to expand her understanding of leadership and grow as a leader. Through this experience, she not only gained new skills to thrive in the workplace, she also embraced a new career direction.
In this Q&A, Colleen discusses her experience in the program and what she gained from obtaining her MA Leadership.
What drew you to the MA Leadership program at the University of Guelph?
Over the years I was naturally drawn to leadership roles and new initiatives to meet needs and gaps in service. As a founding member of local grassroots initiatives such as the midwifery consumer network and homelessness network I was young when I discovered the power of people working together to make things better. I never forgot this lesson and as I my career grew, I became more interested in how leaders impact how people work together. I wanted to know more about how leaders can improve the outcomes for people.
I heard about the MA Leadership program at the 2013 National Victims of Crime Awareness Week Symposium in Ottawa. I researched where I could study this topic and found that the MA Leadership at the University of Guelph was a perfect fit for me. The course descriptions matched my learning goals and the online format would allow me to continue working in a position that I loved.
How did the program enhance your ability to lead in the workplace?
The organization I worked in was facing several serious challenges to its survival. The MA Leadership's courses gave me vital information to help us not just survive, but thrive during difficult times. Specifically the decision making and change management courses helped me lead my team to success. But it's not just the courses that impacted our success. The network of people I met offered me multiple perspectives and insights during our interactions in the program. There was immense value in the program offering this type of collaborative learning opportunity.
How did it change your career focus?
The MA Leadership introduced me to other ways to work and lead people. I became interested in learning more about working outside of the not-for-profit sector. My cohort provided valuable information and inspiration about potential opportunities. The MA Leadership and my cohort broadened my visions of future employment. When an opportunity arose I was ready to change sectors and accept a new position.
In addition to leadership, what other skills did the MA Leadership help you develop?
During the MA Leadership I re-discovered lost loves. Family and work can distract you away from things like researching to find new best practices to implement in your work. Reconnecting with library services to sharpen my knowledge acquisition skills was inspiring. I was thankful to learn that alumni can retain library privileges.
What parts of the curriculum did you find most rewarding?
As with most things in life, that which we are most afraid of becomes the thing we find the most rewarding. The self-assessment portion of the course forced me to push myself past my fears to reach new levels of success. This became much more valuable than I ever could have realized.
In your opinion, what was the best part of the program?
The best part of the MA Leadership program was the opportunity to utilize real life situations within course assignments. This was a gift. The combination of academic learning and practical application allowed me to include my team, and the workplace as a whole, in the growth process.
What advice do you have for people considering the MA Leadership program?
If you are considering applying to the MA Leadership, don't roadblock yourself with excuses. You are smart enough. You will make time to do this. You are worth the investment. It will be worth every dollar and minute you invest; you are investing in yourself and your future.
Photo credit: Emily Nutson
Share this page
Find related news by keyword
News Topics