Kristian Adomait sets sights on finance career following MA in Economics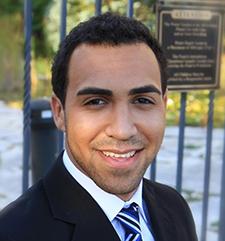 Kristian Adomait recently made a move many new grads make after completing their education - to a new city and new job. Following the completion of his MA in Economics in the financial economics field, he landed a role at big-four audit firm PricewaterhouseCoopers and is currently pursuing his Chartered Professional Accountant (CPA) designation. When asked what he valued most about his experience in the MA program, he emphasized that his graduate education was an asset during the job search process because it set him apart from other candidates.
In this Q&A, Kristian discusses his experience at the University of Guelph and offers advice to students considering graduate education in economics.
Name: Kristian Adomait
Program: MA Economics (Finance)
Current role: Audit Associate, PricewaterhouseCoopers
Graduation year: 2015
Why did you choose the University of Guelph to pursue your Master of Arts in Financial Economics?
The Department of Economics & Finance is ranked eighth in the country for graduate programs and in the top 5% globally for research output. Thus having done my undergrad at the University of Guelph, the master's program was a natural extension. The department is a caring community that takes special interest in graduate students and provides them with attention that would not be available in larger programs. Having a passion for economics and finance along with accounting, the program provided a unique blend catering to all of my interests.
What sparked your interest in studying financial economics?
With a passion for business I believe it is important to understand the world around us. Studying economics seemed like the logical choice in terms of understanding, interpreting and responding to one of the most interesting economic times the world has ever seen. Now going out into industry I am glad to have this academic perspective and have already experienced the added benefits of having this knowledge.
What did you enjoy most about the MA Financial Economics program?
I most enjoyed the interest the professors took in the students' learning and the connections they provided. On several occasions I was able to have one-on-one conversations with top-level industry executives, access only provided through the relationships the faculty have.
What does your current role at PricewaterhouseCoopers entail? Has your graduate education been helpful?
I am currently working for PricewaterhouseCoopers in an audit associate role and am pursuing my CPA designation. I feel the degree was helpful in my search for employment and set me apart from other candidates. In addition, my education has allowed me to participate in conversations and has enabled me to earn the respect of my peers.
What was the job search process like following graduation? Do you have any advice for future candidates?
There is no doubt that the education provided through the program will prepare for you the technical aspects of jobs in the industry. My two pieces of advice in order to find a job are to start the search early and take advantage of the connections provided to you. 
What would you tell students who are considering graduate level education?
Given the rigorous nature of the program I would recommend that students who are considering the program do so immediately after their undergraduate degree as it requires undepreciated skills. I also would recommend thinking about the added future benefit to having a MA in Financial Economics, the respect that comes with it and how it could benefit their careers.
Share this page
Find related news by keyword
News Topics