Lisa Furfaro discovers her own ingredients for success in BUS 4550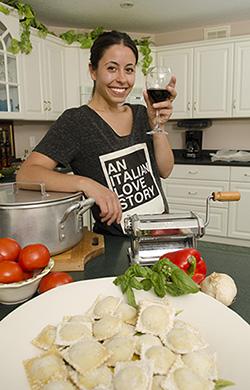 Since starting the BUS 4550 class in CME's Department of Business (DoB) last January, Studio Art major Lisa Furfaro's life has mainly involved two things: school and ravioli. By mixing her natural creativity with business knowledge gained in the course, her business, An Italian Love Story, has taken off. Many people in the region are discovering her take on traditional Italian cuisine with a contemporary twist. Armed with her Nonna's ravioli recipe and fillings like honey glazed grilled peach and curried maple butternut squash, it's easy to see why she's developed a loyal customer base already.
How Lisa's dream became reality involves a chance meeting with DoB Professor Fred Pries and Harold DeVries of the Guelph-Wellington Business Enterprise Centre (GWBEC), who co-run BUS 4550. In late-September 2012 at UofG's University Centre, they were recruiting for the course's January 2013 offering when their booth caught Lisa's attention. She states, "When I was walking through UC, I passed a sign saying 'Do you want to be your own boss?' I stopped, turned around, and went to the booth to learn more about the course. Less than a year later and I was running my own business."
Now entering its fifth year of educating students in business planning and entrepreneurship, BUS 4550 has a proven track record of giving students the tools they need for business success. Lisa Furfaro is one of many students and alumni who have created business plans and moved forward with development. Others have started jewellery lines, swimming schools and offered photography services. According to Fred, "BUS 4550 really focuses on helping students develop their business plan. They get help from advisors from GWBEC, and meet weekly to make sure everyone is on the same page. There are also seminars on topics like web marketing, tax, and bookkeeping." He continues, "While not all students go on to start the business, the course gives everyone the skills and confidence they need to pursue it if they choose, whether it's directly following the course or 20 years down the road."
Although the course is offered within the CME, it attracts participants from across UofG's campus. Students are mainly graded on their business plan, which they eventually present to fellow students and advisors. According to Fred, "The best part of running BUS 4550 is seeing students go out and run their own businesses. One of the things I always tell them is that their plan will not accurately forecast how it will roll out. They must learn to adapt to change."
Adapting to change is what Lisa had to do with her plan when she was accepted into GWBEC's Summer Company Program, which gave her a grant to make her ravioli a reality. Lisa states, "One of the first things I had to rethink was my target market. I originally thought everyone would love ravioli, but my focus switched to the prepared food market." She continues, "I also thought getting ingredients from grocery stores would be the most cost-effective way of making my product, but I learned that people really care about where the ingredients come from, so I focused in building relationships with local producers at the Aberfoyle Farmers' Market." The adjustments she made have helped her establish a strong customer base with people often stocking up on her pasta varieties. 
Since launching An Italian Love Story, Lisa has also expanded her product line to include fettuccini, gnocchi and pasta sauce. Moving forward, she will take BUS 4560, the second part of BUS 4550, during which she will revisit her business plan, and identify what was validated and what needs to be revised. She will also continue building her brand and strengthening her marketing strategy.
In addition to launching her business, Lisa's greatest takeaways from BUS 4550 and the Summer Company Program are soft skills. Specifically, Lisa says she has increased self-confidence and improved communication skills, which have helped her in many areas including standing up for her product. Although she was originally intimidated by the class because of her lack of business experience, she says the environment was "comfortable, non-competitive and creative. You also receive diverse perspectives on your ideas from people with different majors. The class is an opportunity to investigate a passion – nobody is going to care as much about your business as you do."
Photo credit: Ross Davidson-Pilon, Studio 404
Share this page
Find related news by keyword
News Topics