For Mature Student, Rob Henderson, Age is Just a Number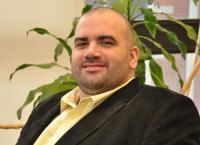 When Rob Henderson decided to go back to school at the age of 35, he knew he was going to be one of the oldest students in his class, but that didn't stop him from enrolling as a mature student at the University of Guelph. "I've always wanted to do that," says Henderson, who received his B.Comm. at winter convocation 2012. "Growing up, I had to leave school early and go to work, so I've always tried to upgrade."
He worked in construction and as a delivery truck driver for 15 years. When he injured his back on the job, he decided to learn new skills that would help him find a new job. A friend who worked in computing inspired him to study computer science at U of G. But after one year in the program, he realized that he was better suited to business, since he enjoyed working with people and numbers. He switched to human resource management.
Henderson's age turned out to be an asset. His classmates, most in their late teens and early 20s, looked up to him. For group assignments, he was automatically designated the leader. "Younger students look to you for answers and leadership," he says. His professors were also sympathetic to his obligations to his wife and two children, then ages three and five. Going back to school allowed him to spend more time with his family than when he worked 60 to 70 hours a week.
On top of his course load, he worked as an undergraduate research assistant (URA) for Prof. Nita Chhinzer, Department of Business, an experience he describes as "the best thing that ever happened as far as my university career goes."
What started with data entry and research grew into collaborating on papers. Henderson and Chhinzer presented two abstracts at the 18th annual International Conference Promoting Business Ethics in Manhattan last October. One paper looked at a new framework for downsizing in the public and private sectors; the other examined the efficacy and ethics of layoff legislation. He received feedback from attendees, including researchers from the United States, Australia and Iceland.
Henderson says working with Chhinzer gave him a new perspective on professors. "It was incredible," he says. "As a student, you're looking at these professors and you have a picture of what they do, but you get to see what they do behind the scenes above and beyond teaching."
Henderson also gained a new appreciation for what goes into getting a paper published. As a URA, he gathered data from the Ontario Ministry of Labour and worked with Chhinzer to develop a concept for their paper. After writing and submitting their paper, he says, "You wait patiently for that nice little acceptance letter to come in the mail. And in my case it was great: I got my first doctoral letter in the mail because they just assumed I was a doctor. I had some fun with it. It certainly made its way to my Facebook page."
Henderson is currently looking for HR jobs and hopes to work his way into upper management. "I have a two-pronged approach: I'm looking at larger companies with larger HR departments, but I'm also looking at smaller companies that I can grow with."
For anyone thinking of going back to school as a mature student, Henderson offers the following advice: "First, find out if the school has a mature student association. Guelph has a fantastic one: the GMSA. From day one, I joined it, and it was probably the best decision I ever made." The Guelph Mature Student Association uses humour to bridge the age gap with younger students, offering T-shirts that read: "No, I'm not your prof" or "No, I'm not a TA."
By Susan Bubak
Share this page
Find related news by keyword
News Topics