First-year student Neil Mattar reflects on his first semester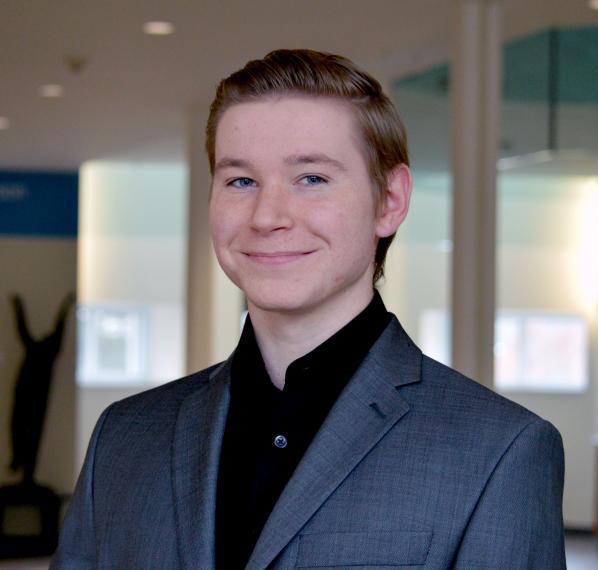 Name: Neil Mattar
Hometown: Terrace Bay, Ontario
Year of study: First
Major: Management Economics and Finance (Co-op)
The first semester of university is an exciting time for new students, filled with new experiences and challenges. First-year Management Economics and Finance student Neil Mattar will admit he was nervous about taking this next step in his education, but over the course of his first semester at the University of Guelph, he has found the campus welcoming and enjoyed discovering helpful resources and different ways of getting involved.
In this Q&A, Neil discusses his first semester and what he has enjoyed most so far about being a business student at the University of Guelph.
Why did you choose the Bachelor of Commerce program and the Management Economics and Finance (MEF) major at the University of Guelph?
I have always enjoyed mathematics, teamwork and public speaking. I feel like studying business combines all of those things and lets you choose a job that will be a lot of fun. The reason I chose Management Economics and Finance is that it leaves open a lot of options for me in the future. Choosing exactly what I wanted to do was super hard, so MEF made it easier on me since I can branch off into different directions. The reason I chose Guelph was mainly because of the Co-operative Education program. Being able to train for a future job while going to school is an incredible way to prepare yourself for the future while at the same time giving you experience.
What have you enjoyed most about your first semester?
In my first semester, I have met a ton of amazing and friendly people. Everyone here is really nice and helpful, especially the professors and the campus itself is beautiful. As a business student, Guelph has been amazing because of the new facilities that we have access to. The new classrooms provide a fun and welcoming learning environment.
What were you most nervous about prior to starting university? How has that changed?
Prior to starting university, I was extremely scared of how everything would work out and if I was going to be able to get through this. I was also really nervous about not liking my program and wasting time and money. All of this has changed however because the university offers a lot of help when it comes to literally anything. The professors are very happy to help you with any problems you may have and there are multiple student learning groups set up to help you as well. Other than the education, living on campus gave me no worries because my RA and other staff have made it very easy and welcoming to live here.
What drew you to join the College of Business and Economics Students' Association's (CBESA) Street Team? What has been the most valuable part of this experience?
I joined CBESA because everyone was telling me that the best thing to do as a business student is to get involved. After being accepted into CBESA, I could have not been any happier about my decision to join, in fact it was probably my best decision yet. Through CBESA I have met many extremely nice people and have been learning a lot about the business community.  I have learned a lot about networking with other people and I quickly learned how to become a successful business student.
What are you most looking forward to as you progress through your program?
I am really looking forward to starting my co-op and getting a chance to gain experience in an area that I am enjoying so far. I am also excited to meet more people through all of my classes and making even more friends.
What advice do you have for prospective students considering studying business and economics at the University of Guelph?
Some advice I would give to prospective students is to try and get involved as soon as possible. I know it can be intimidating as a first year student when you try and join clubs or organizations, but for the business program it's important to get involved. Another piece of advice would be to join the mentorship program. You are assigned a mentor for free and you are able to learn a lot from them. I myself have a mentor and he has taught me how to set goals, achieve these goals, and how to network better in a business setting.
If you could describe your University of Guelph experience so far in three words, what would those words be?
Welcoming, beautiful, and enthusiastic.
Share this page
News Topics