Zakiya Pirani Lights Up Possibilities in South America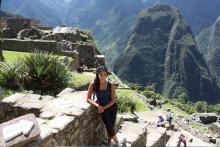 While many Canadian business schools have begun to appreciate the importance of environmental issues, environmental concerns and issues of sustainability have always been central to the College of Management and Economics. Students interested in these areas have the opportunity to take courses focused on corporate social responsibility and sustainability. Zakiya Pirani is a Human Resource Management major who recently completed an Applied Business Project course focused on corporate social responsibility. Zakiya was interested in developing a business plan for a not-for-profit organization and approached the course with an open mind.
Zakiya developed an interest in entrepreneurship and social development when she participated in a social justice trip to Lima, Peru with Project Serve International. After travelling to Peru, Zakiya saw herself working in community development in the future. Zakiya discovered A Liter of Light, an organization in the Philipines that uses water bottles to light homes, and began to think of ways to adopt the idea for communities in South America.
Although Zakiya had an idea for a not-for-profit organization, she had limited entrepreneurial knowledge and decided to take the Applied Business Project course to assist her in the development of a business plan. Within the course, Zakiya received advice from individuals including her professor, a business adviser, lawyer, insurance broker and skilled research group. Zakiya states, "I had multiple resources readily available who helped me move forward with my original idea. Without the course, my business plan would not have developed as quickly as it did."
Zakiya recently presented and submitted her business plan and hopes to move forward with her idea in the coming year. Upon graduation in December, Zakiya plans to visit South America to explore available resources and to receive guidance from community development organizations in the area. She will also begin to look for funding for her project. Ideally, Zakiya hopes to develop a self-sustaining organization that requires minimal upkeep. She would like to be involved with the initial implementation of the organization as well as with continuous efforts.
Along with her efforts abroad, Zakiya also serves as co-president of Right to Play at the University of Guelph, an organization that strives to improve the lives of children in disadvantaged areas by using sport and play for health and development. She is currently working with two friends to design the first sport for development based course at the University of Guelph, which would allow students to design a sport for development lesson plan to implement in a local Guelph elementary or high school. The course would also intertwine with a two week volunteer trip to Peru in May 2013 with Solidarity Experiences Abroad (SEA), who has previously partnered with the University through Project Serve International. A small group of students from the course would have the opportunity to travel to Peru to implement their lesson plan in an international development setting.
Obviously, Zakiya has others' interests in mind as she moves forward with her personal and professional plans. Zakiya is a student who embodies CME's attitude that corporate and social responsibilities are important in today's professional setting.
Share this page
Find related news by keyword
News Topics