HeForShe Ally Scholarship

Recognizing the power of an ally
---
Each year, the Gordon S. Lang School of Business and Economics opens applications for the HeForShe Ally Scholarship, a scholarship of $2,500 available to all University of Guelph undergraduate students.
The HeForShe Ally Scholarship is available to U of G undergraduate students registered in any program who have demonstrated, through their actions and support of various initiatives, that they are an ally and committed to gender equality.
"An Ally is defined as someone who consciously commits to disrupting and ending cycles of injustice." (Waters, 2010)
This scholarship aims to recognize the importance of gender equity and equality by acknowledging the achievements of individuals who are committed to achieving gender equality for all.
The deadline to apply for the HeForShe Ally Scholarship is January 10th, 2022. Application details and eligibility information can be found on the Scholarships and Awards page.
Previous Award Recipients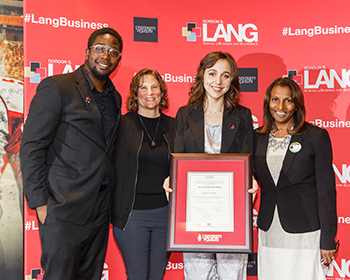 2020 Ally Scholarship
The recipient of the inaugural HeForShe Ally Scholarship was Bailey Fuller, who was recognized for her tremendous work and support within inclusion, equality, and equity on campus. Bailey is a student at the U of G's Ontario Veterinary College in the Doctor of Veterinary Medicine program.