HeForShe Impact Award

Recognizing the impact of Guelph-Wellington's gender equity initiatives
---
The Gordon S. Lang School of Business and Economics created the HeForShe Impact Award to recognize a local business or organization in the Guelph-Wellington region that is actively promoting and improving gender equity through initiatives that they have championed and/or supported, resulting in positive change within the organization and the community.
Examples include:
Promoting gender equality, diversity and inclusion initiatives amongst employees

Have a balanced leadership team, equal representation on diversity committees (or similar)

Support gender equity initiatives and events that have a positive impact in the community
The recipient of the award will:
Be recognized at the annual HeForShe at U of G celebration for their contributions to gender equity

Receive VIP invitations to the event for employees, volunteers and/or guests

Have a donation made on their behalf to the Guelph-Wellington Women in Crisis (through the Angel Gabriel Foundation)

Be featured on the U of G and the Lang School digital communication channels (i.e. website, social media, newsletters)
Nominations for the HeForShe Impact Award are open until 11:59pm February 13th, 2022. Nominations must include a 300-word (max) supporting letter, indicating reasons for nomination. Nominations can include additional supporting documents (news clippings, URLs, event listings, videos, etc.). Self-nominations will be accepted.
The nomination form can be accessed using the link below.
Previous Award Recipients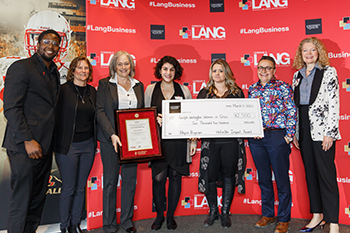 2020 Impact Award
The recipient of the inaugural HeForShe Impact award was Rhyze, a program led by Innovation Guelph that cultivates women's entrepreneurial spirit and guides them to elevate their businesses. In addition to receiving the award, a $2,500 donation was made to Guelph Women in Crisis on their behalf thanks to the generous support of the Angel Gabriel Foundation.