Improve Collaboration

Alumnus Matt Johnston is fusing the creativity of craft beer with the inspiring talents of artists to help improve collaboration across the global arts scene.
"I love the graduates that are coming out of U of G. They are very down to earth and driven individuals. That fits the culture of our company really well."
For Matt Johnston (BComm '96) a craft beer is more than just the science behind the perfect recipe. It's about pushing the limits through creative brewing and collaborating with the global arts community.
When making the decision to leave a comfortable position with a recognized Canadian brewer, he took a leap of faith to start his own craft brewery, Collective Arts Brewing. To create a compelling brand on store shelves, his brewery places art from around the world directly on the beer cans.
 
Collaboration is more than a buzzword.
At Collective Arts Brewing, collaboration is engrained in their company's DNA. "Our mission is to fuse the creativity of craft beer with the inspiring talent of emerging artists and musicians," says Johnston. "The craft beer industry is already an incredibly collaborative industry, so when you pair a brewery with the creative artists, collaboration becomes the heart and soul of everything." He hopes to increase engagement and awareness for emerging artists and musicians, and share their creativity with the world.
 
Creativity is everywhere.
For many craft breweries, the location of the brewery often becomes the focal point for the brand. However, Johnston knew he wanted Collective Arts to be more than just a brewery in Hamilton, Ontario. "Creativity is everywhere, and as promoters of the arts scene we strive to be part of every community" says Johnston. "A creative world is a better world, and we want to inspire people to break out of the status-quo by introducing them to the creativity of emerging artists through our beer."
When it came down to taking the entrepreneurial leap of faith, Johnston knew what he had to do: "Dream big, understand what that looks like, then go get it."
"For us, it's a grass roots movement. Artists inspire us and then we craft a beer as diverse and unwavering as the artists themselves."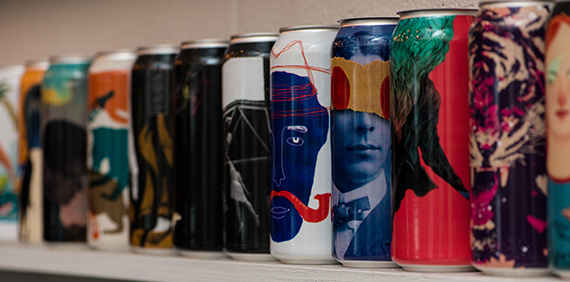 Entrepreneurial Vision
Left a comfortable position at a recognized Canadian brewery to start his own brewery.

​Partnered with a colleague to develop their vision and business plan for Collective Arts.

Without deep pockets, it took creativity to get his business off the ground through partnerships and contracting at three breweries.
Education and Experience
Graduated from the University of Guelph's Bachelor of Commerce program, with a focus on Marketing Management.
​Developed a strong foundation for problem solving in business.
Former V.P. Marketing and Sales at Moosehead Brewery.
Co-Founded Collective Arts Brewing in 2013.
Collaboration
Each year, Collective Arts Brewing receives over 20,000 artwork submissions from across 40 countries.
 
Collective Arts never take ownership of artists work, and always pay a stipend to the artists, presenting their art in the best way possible.
 
Won Gold at the 2018 Canadian Brewery Awards for their American Style Imperial India Pale Ale.