Improve Dialogue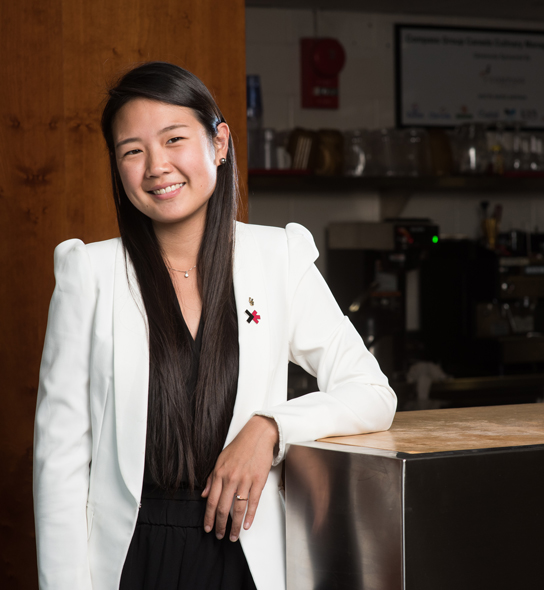 As a Hospitality and tourism student, Michelina Martinez was committed to improving student mental health at U of G.
Helen Martinez is mature beyond her years. As a hospitality and tourism student, she helped launch Gryphs4Gryphs – a fundraising campaign aimed at improving mental health for her fellow U of G students. The campaign came together out of a leadership course she took during her Commerce degree. The course challenged her to reflect on her own self-awareness, communication, and stress management skills. Michelina and her friends raised money for the initiative by selling U of G pins, phone cases and time in photo booths. The Gryphs4Gryphs campaign donated all proceeds to Here 24/7, a local organization that offers mental health support across the Guelph and Waterloo region.
Recognition of Resiliency
In 2018, Michelina was awarded with the Amanda Lang Resilience Award, given during the College of Business and Economics' #HeForShe celebration – a United Nation's initiative that supports gender equality. This award recognizes BComm students who have shown leadership and resiliency in the face of adversity. A recognized leader amongst the tight-knit U of G hospitality and tourism students, she was part of an initiative to help first-year hospitality and tourism students familiarize themselves with campus.
"Some of the professors I have met here are not only my heroes, but they're also great friends to keep in touch with."
"My career goal is to speak up for those who cannot speak for themselves. I'm hoping that in the future I can pass down my experience and knowledge to previously marginalized women and children in rehab centres in Eastern Asia."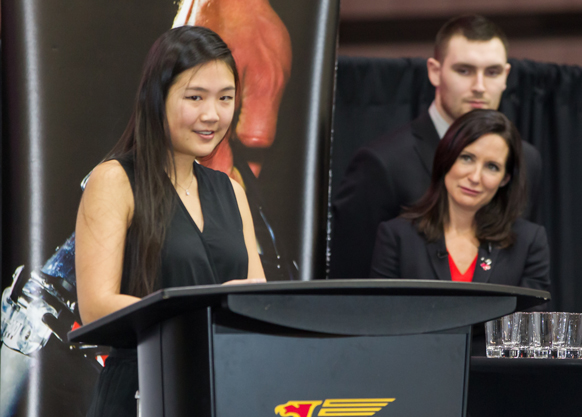 Leadership development
Born in Panama and moved to Canada with her family when she was 8.

Worked as a manager trainee at COBS Bread, an Australian bakery for her latest co-op placements.

Currently works as a luxury suite attendant for Aramark at the Rogers Centre and at Canoe Restaurant and Bar in downtown Toronto.
U of G Connection
Chose to attend U of G because it has "Canada's best campus food."
Her favourite course at U of G has been Hospitality and Tourism Industry Consultation, which has students analyzing challenges facing real organizations in the hospitality and tourism industry.
Worked as the Director for Academic and Charitable Events for the Hotel, Food, and Tourism Student Association (HFTMSA)
Was a note taker for students with learning disabilities.
Values & Recognition
Started the Gryphs4Gryphs campaign, helping bring awareness to mental health challenges on campus.
Winner of the 2018 Amanda Lang Resilience Award during U of G #Heforshe event.
Helped lead an anti-human trafficking intiative while in high school.
On her most important lesson she has learned at U of G: "Be a leader at a local level, but act with a global perspective; learn to be empathetic and give without expecting anything in return."