Improve opportunities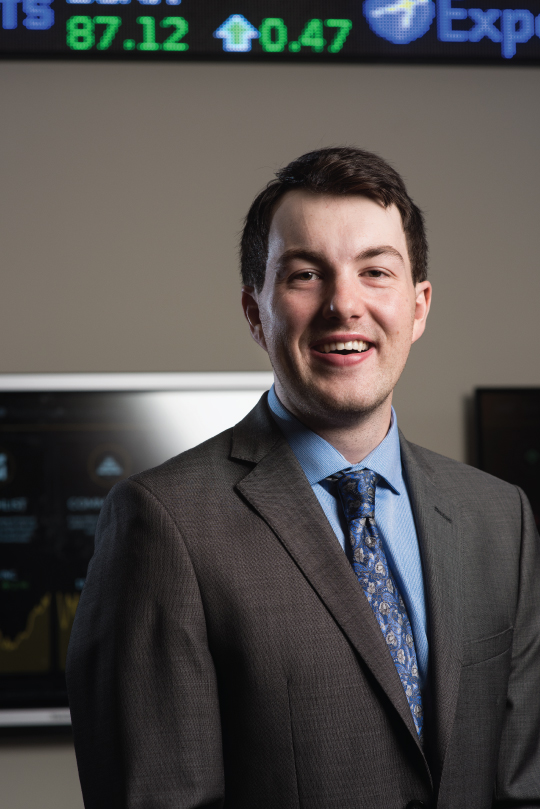 Wyatt Trainer is disrupting the pay-day-loans industry by providing more opportunities to access affordable personal loans.
A key lesson for any entrepreneur is knowing when to pivot. Recent graduate and entrepreneur, Wyatt Trainer knows this all too well. An accomplished junior hockey player, Trainer was forced to pivot his career after injuries derailed his professional hockey dreams. Enrolling in finance at U of G, Trainer became intrigued by the lack of options available for personal financing, including "pay-day loans" banks, which often charge customers high interest rates for quick access to cash. Trainer saw an opportunity.
To bring his idea to life, he enrolled in CBaSE's Hub Incubator program at the College of Business and Economics. There he started his company, Lendly - a peer-to-peer lending platform that uses block chain technology to pair lenders with borrowers, allowing users to have greater access to more financing options.
"My hope with Lendly is to give the most at risk economically at-risk demographics an interest rate which is sustainable so that they can work towards becoming better managers of their own personal finances."
Trainer's concept benefits both parties, as the lender can determine the amount of risk they would like to take on, while the borrower can search from a pool of lenders for their preferred interest rate. He hopes that Lendly is the "Uber" to the personal loans industry.
"Not only did CBaSE provide amazing mentorship that helped me fine tune my business model, they also recognized and catalyzed the sustainability aspect of my business"
Business that Improves Life
His business, Lendly connects borrowers to lenders, the same way ride-sharing apps connect passengers to driver.

Lendly was awarded the Warren and Deborah Jestin impact award – recognizing the startup that demonstrates the highest community and social benefit along with a sustainable and profitable business model.

Trainer is developing a free financial literacy platform to better help educate borrowers about the risks of credit.
U of G Connection
Grew up in Uxbridge and Newmarket, Ontario.

Graduated with a Bachelor of Commerce degree in 2018.

Played in the Ontario Hockey League system, and for the Guelph Gryphons hockey team.

Credits the University of Guelph for helping him grow as a person and engaged citizen.

Favourite course taken was the Theory of Finance course.

Beyond the Rink
On an off-ice injuries forced him to pivot his career towards finance.

Lendly graduated from CBaSE's Hub Incubator program in 2018.

Accepted to Innovation Guelph's accelerator program.

Lendly has garnered the investment interest of venture capitalists, evangelists and former Dragons from CBC's Dragon's Den.