Cook (and shop) like a Canadian on July 30 for Food Day Canada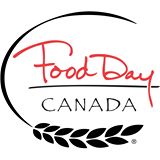 It's Food Day Canada…with a twist. On July 30, Food Day Canada will once again celebrate Canadian cuisine, promoting food from across the country. This year, Anita Stewart, founder of Food Day Canada and food laureate at the University of Guelph, is adding a special touch to the celebration in honour of Canada's 149th birthday – a free online grocery list featuring 149 ingredients produced in Canada.
According to Stewart, the grocery list was inspired by a growing knowledge gap she observed about foods that are actually cultivated and processed in Canada.
"For years I've cajoled and coached people to Cook Like a Canadian, now it's time to Shop Like a Canadian," said Stewart. "This list is a start to knowing where your food comes from and how to find it so you can celebrate every last tasty morsel grown in Canada. After all, Canada IS food and the world is richer for it!"
The list includes some well-known items such as flour and many dairy products, in addition to Montreal-made couscous, Taber-refined sugar, cider vinegar and pulse crops. There's also a selection of VQA wines, craft beers and cheeses.
Foodies from across Canada are welcome to participate in Food Day Canada, by visiting one of the more than 250 restaurants it has partnered with, or enjoying the festivities at home with family, friends and fellow foodies.
Celebrations will start early on July 26 with a Twitter party from 8:30 p.m. to 9:30 p.m. where people can share their favourite Canadian-grown foods and what they think was missed on the grocery list. On July 30, Food Day Canada participants are invited to share their food story on social media (Facebook, Twitter, Instagram). Images will appear on the Food Day Canada website (FoodDayCanada.ca).
Want to join in?
Follow Food Day Canada on Twitter (@FoodDayCanada) for the Twitter party on July 26 and for Food Day Canada on July 30.
Use hashtags #FoodDayCanada and #CanadaIsFood to share your favourite Canadian foods, feedback on the grocery list and food story. Don't forget to share photos!
Founded by Anita Stewart in 2003, Food Day Canada has become known as a special day mid-summer for Canadians to share their food and their stories with each other while leading other nations in cultural diversity, food ethics, magnificent flavours … and fun! The first Food Day Canada launched the World's Longest Barbeque in response to the BSE crisis that devastated Canada's cattle industry.
Share this page
News Topics