Commerce students tackle real-world challenges in BComm course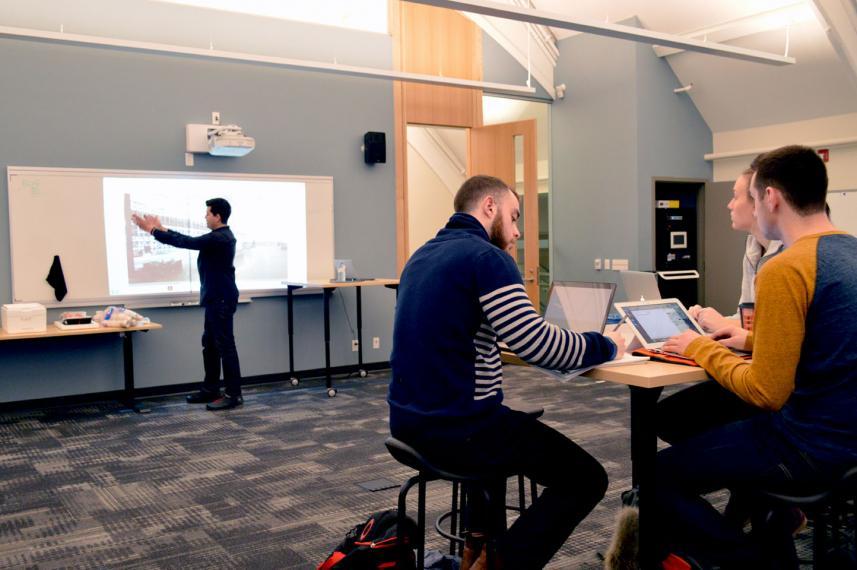 Fourth year BComm Hospitality and Tourism Management (HTM) students are putting their business skills to the test this winter through an intensive capstone course which has them solving real-world business challenges facing actual hospitality and food service businesses.
Taught in the Active Learning Classroom in Macdonald Hall, the Hospitality and Tourism Industry Consultation Course (HTM4190) brings significant industry partners to campus to collaborate on projects with Guelph BComm students.
"Our students are essentially transforming into consultants for this course," says Assistant Professor Bruce McAdams. "Every two weeks a new business comes to campus to work with our students in order to find solutions to challenges facing their business."
The course began with students estimating the financial viability for Earls Restaurant to switch from paper napkins to cloth. Mark Hladik, Vice President, Operations at Earls Restaurant believes the interaction with the UofG students was an invaluable experience for his company.
"The students asked pertinent questions that were highly relevant and current to today's challenges of running a North American restaurant company," says Hladik. "The findings from the two case studies we participated in have helped shape our organizational strategy."
The remainder of the course will have students solving actual hospitality and tourism related challenges facing the following businesses:
Planet Shrimp: An Ontario based startup supplying sustainable and ethically sourced shrimp for both grocery and restaurant supply chains.
Their Challenge: How to market and differentiate sustainable and healthier shrimp to the consumer.
Bench Brewing: Niagara based brewery who use a unique, farmhouse style approach to brewing craft beer.
Their Challenge: How to provide a unique brewery tour experience for the craft beer market which rivals wine tours in the Niagara region.
Schlegel Villages: High quality retirement living and long term care villages in Guelph
Their Challenge: How to attract and retain high quality hospitality staff to work at their retirement living centers.
"Hands-on, applied learning is something we strive to provide all of our students," says McAdams. "We help make the transition from schooling to their careers much easier and smoother."
Share this page
News Topics