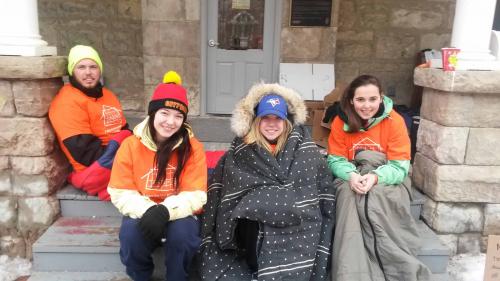 The College of Business and Economics Student Association launched its annual 5 Days for the Homeless campaign on March 9, raising money for Wyndham House. Located in Branion Plaza, student volunteers have declared themselves homeless for the week and will be sleeping outside, eating only donated food and living without many basic amenities. Business students and volunteers James Welton, Tori Marshall, Kaitlyn Edwards and Steph Vesely are among those who will be accepting donations until Friday. 
U of G's campaign was featured in the Guelph Mercury this week. Read "Guelph students sleep outside on campus to raise awareness about homelessness" [1]
For more information on the campaign, visit the 5 Days for the Homeless website [2].