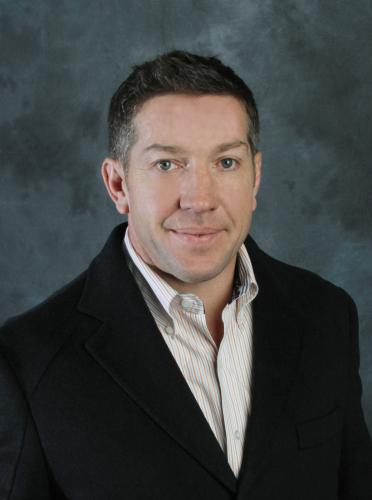 As a former NHL player, Sheldon Kennedy spent eight years skating for three teams, but his true life's work has been focused on being a champion for millions of abuse survivors. It is because of his ability to stand up in the face of adversity and create positive change that the University of Guelph and College of Business and Economics will recognize him with the Lincoln Alexander Outstanding Leader Award on May 27.
The Lincoln Alexander Outstanding Leader Award recognizes a Canadian who has exhibited exemplary leadership within, and more importantly beyond, the boundaries of his or her profession. It is named after the award's first recipient, the late Honourable Lincoln M. Alexander, former Lieutenant Governor of Ontario and Chancellor Emeritus of the University of Guelph.
Best known for his courageous decision to charge his Major Junior Hockey League coach with sexual assault for the abuse he suffered while a teenager under his care, Kennedy's tireless efforts campaigning against abuse and supporting child abuse victims exemplify the values of this award.
Throughout his career as an advocate, Kennedy has made international headlines and was named Canadian Newsmaker of the Year by the Canadian Press in 1997. In 2006, he wrote about the psychological impacts of abuse in his book, "Why I Didn't Say Anything." He has also received numerous awards and honours, and was recently announced as a Member of the Order of Canada.
Kennedy has influenced change in Canadian law and has taken his message to the International Olympic Committee and U.S. Senate. He serves as a volunteer on the Board of Directors at the Sheldon Kennedy Child Advocacy Centre in the position of lead director, and works to provide empowering online education for the prevention of abuse, bullying and harassment through the Respect Group, a company he co-founded.
Kennedy will receive the award on May 27 at the University of Guelph during the College of Business and Economics' annual Lincoln Alexander Outstanding Leader Award banquet.
Previous recipients of the Lincoln Alexander Outstanding Leader Award
The Hon. Lincoln Alexander (2006)
The Hon. Frank McKenna (2007)
General Rick Hillier (2008/09)
Richard Pound (2010)
The Hon. Louise Arbour (2011)
Martin Connell (2012)
The Rt. Hon. Paul Martin (2013)
The Hon. William (Bill) Winegard (2014)