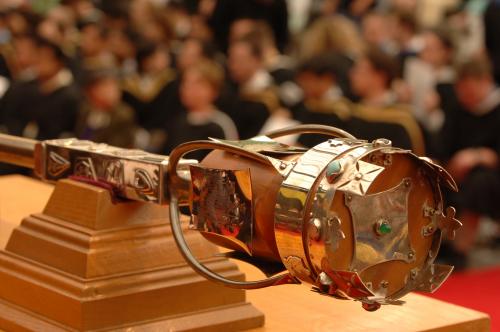 Almost 500 students from the College of Business and Economics will officially become University of Guelph alumni at convocation ceremonies taking place today at War Memorial Hall. They are among the more than 3,400 students receiving their degrees this week.
College of Business and Economics students will graduate from eight different majors: Accounting (104), Hotel and Food Administration (50), Human Resource Management/Leadership & Organizational Management (37), Management Economics and Finance (63), Marketing Management (171), Public Management (12), Real Estate & Housing (31) and Tourism Management (14).
Today's convocation ceremonies will also mark two firsts for our graduate programs. Colin Magee will become the first individual to graduate from the Organizational Leadership stream in the PhD Management program, and Jingen (Lena) Liang will become the first individual to graduate from the Master of Science, Tourism and Hospitality program.
The University of Guelph's convocation ceremonies will confer a total of six honorary doctorate degrees this week. Noted labour economist and University of California – Berkeley professor, David Card will be honoured at the 4:30 ceremony. He is known for his use of empirical economics to address important labour issues, including education, minimum wage and immigration. He helped push for researcher access to Statistics Canada data sets, and continues to research and teach graduate students.
Congratulations to all of our graduates!
Can't make it to campus for convocation? Watch today's ceremonies live [1].