A group of 20 Guelph students helped ignite entrepreneurship activity in one of Guatemala's most impoverished and rural areas this past winter, under the guidance of economics professor Kurt Annen. The international class project gave students the opportunity to mentor 20 Guatemalan youth from rural towns in the city of Quiché. The collaborative business ideas needed to satisfy three conditions: the product or service must fulfill local demand, be launched in a short period of time, and with just $250 USD in seed funding. 
"What was amazing to see was the collaboration of ideas and strategies between the Quiche youth and our students," said Annen. "The local youth knew what their village needed to flourish, but they lacked the business expertise to take their idea to the next level. That is where our students really inspired."
In total, there were 10 groups, each consisting of two Guelph students and two local budding entrepreneurs. This mixture, according to Annen, helped foster collaboration and knowledge exchange between the students and local youth.
"The learning for our students and for the youth of Quiché was tremendous," Annen added. "The fact that students needed to develop business ideas that met local demand meant our students got to learn about poverty and rural problems in a way that cannot be taught in a class room."
The business ideas ranged from a simple chicken coop designed to help combat Quiché's malnutrition problem, to a rentable box of children's toys aimed at improving quality of life amongst adolescents. In total, 10 groups pitched their ideas with the five most viable businesses moving on to a formal pitch event in the Antigua Impact Hub – a unique community of entrepreneurs that connects fellow entrepreneurs with funding and resource support. Two of the five ideas pitched at the Antigua Impact Hub received full funding from local investors and technical support from interested NGOs. As Annen puts it, there are so many social and economic problems plaguing the area, "the simpler the solution is often the most successful."
The two entrepreneurial ideas that received full investment are:
Agribono:
University of Guelph Students: Leanna Buisman, Melanie Michener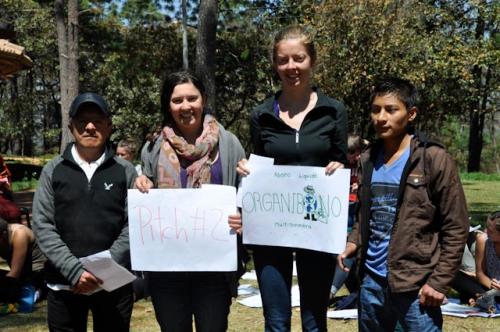 As subsistence agriculture is a primary source of income for many families in Quiché, the Agribono group discovered a need for a cost effective, organic fertilizer as an alternative to dangerous chemical fertilizers. Aiming to sell their fertilizer directly to farmers, their procurement strategy involved investing in a worm farm to extract liquid fertilizer. The team's business idea reached full investment from a local investor and even sparked the interest of an NGO in the audience that will be buying the organic compost.
Nutrigo:
University of Guelph Students: Jessica Radford, Wilson Bethany-Rose
Wheat production and harvesting is a large source of income in Cunén, Quiché. However, there is currently no method of milling the abundant wheat to produce necessary flour the locals need to combat their malnutrition problem. Nutrigo's plan to sell whole-wheat flour provides added nutrients and vitamins to the locals diet. Nutrigo will invest in wholesale production and milling of wheat and distribute the produced flour to local stores. Nutrigo landed full investment and are in talks with an NGO that runs nutritional programs in the area regarding their business plan.