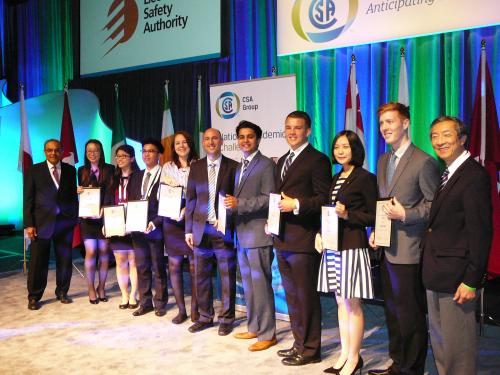 Caption: All CSA National Academic Challenge competitors on stage at competition at Niagara Falls
University of Guelph students excelled at this year's CSA National Academic Challenge in Niagara Falls, with two teams making it to the final round of the annual competition. Corrina Claus took home top prize for her project on mobile device privacy. The University of Guelph student, on exchange from the University of Ulm in Germany, was recognized with a $4,000 donation to her charity of choice, War Amps. Guelph's second team, consisting of Michael Halyk, James Munro (both Marketing Management), You Jia Lee (HAFA) and Meet Shah (MEF), gave an excellent presentation on requirements for organizers of sustainable events.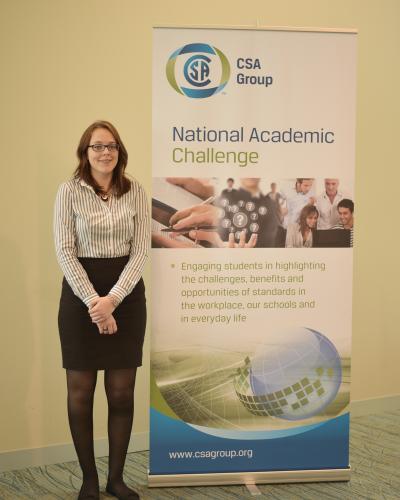 Caption: CSA National Academic Challenge winner, and University of Guelph exchange student, Corrina Claus
This year marks the best performance to date by Guelph at the challenge. The national challenge requires students to complete a project that addresses a specific challenge issued by CSA Group. This challenge engages students in the world of standards, highlighting their impact in the workplace and in everyday life. This project is then judged by a panel of judges from across Canada with the top three teams moving on to present their project at the CSA's annual conference. The winning team is then selected by voting committee members, conference delegates and CSA Group staff.
Students in both teams were part of the University of Guelph's quality management course taught by professor emerita Anne Wilcock. The course welcomes students from a wide range of majors to collaborate on projects covering topics in quality management and safety. Wilcock recruits top Food Science graduate students from the Ontario Agricultural College to mentor the undergraduate students. This year, graduate students David Ioi and Chloe Sullivan, helped coach the student teams through the course project.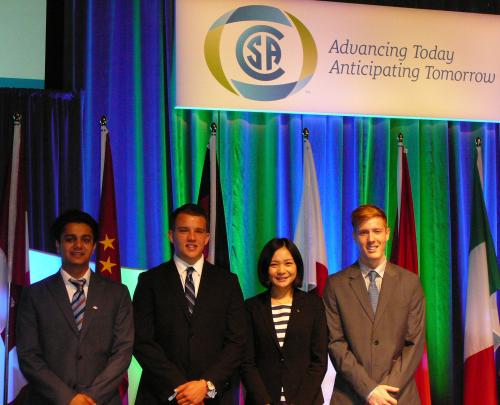 Caption: University of Guelph team (l-r): Meet Shah, James Munro, You Jia Lee, Michael Halyk