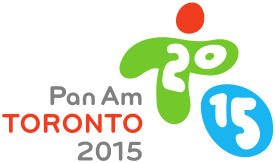 Two College of Business and Economics alumni and former Gryphon athletes are taking their athletic pursuits to the international stage at the Pan Am Games. Joanna Brown (triathlon) and Tim Hendry (shot put) are both marketing management graduates.
Brown and Hendry are among eight former and two current Gryphons who are competing at the Games taking place in southern Ontario until July 26. Numerous University of Guelph staff, faculty and students are also involved through various staff and volunteer positions.
Read more on the University of Guelph's role in the Pan Am Games [1].