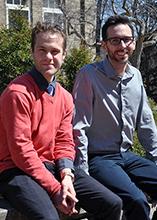 Engaging in parenting that balances direction and autonomy is most beneficial for today's young adults, says professor Sean Lyons, an expert on the impact of generational differences in the workplace. The effects of "helicopter parenting" - parents who have trouble giving their children the freedom to become independent adults - can have adverse effects on their child's career.
Compared to the generation of individuals that navigated young adulthood two decades ago, today's twentysomethings are encountering a different reality. According to Lyons, more than half of those between the ages of 20 and 29 still live at home because they are in school longer and are getting married later. It's also taking longer to get established in a career.
In this interview with at Guelph [1], Lyons and PhD candidate Josh LeBlanc explain that many parents may be doing more harm than good by not giving their children enough autonomy.