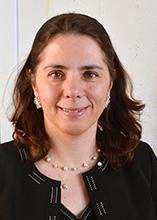 Who brings home more bacon? At a time when equal rights is supposed to be a core value in Ontario workplaces, men, on average, are still being paid more than women.
This gender wage gap will be the focus of a workshop hosted by the University of Guelph's College of Business and Economics, the Laurier Centre for Economic Research & Policy Analysis (LCERPA) and the Pay Equity Commission on April 17. It is the result of the Pay Equity Office's Gender Wage Gap Grant Program launched in November 2014.
According to Miana Plesca, one of the recipients of the grant and associate dean of research and graduate studies at the College of Business and Economics, wage gaps are typically absent at the beginning of someone's career, but they develop over time.
Some of the contributors to the gap are rooted in the fact that many men and women continue to take on traditional roles. For example, women experience more career interruptions due to parental leave and further obligations connected to child care.
"One of the issues at play is statistical discrimination," says Plesca. "Statistically speaking, women are still expected to have children. Employers may be more likely to promote males because males are less likely to take time off to raise their children."
Plesca, a known expert in labour economics, also says employers need more education to understand statistical discrimination. The purpose of the workshop is to address these social questions that affect the wage gap.
Plesca and co-leads Jennifer Teng and Luiza Antonie (University of Guelph), in addition to Tammy Schirle (Wilfrid Laurier) will discuss their findings alongside Emanuela Heinick (Pay Equity Commission) at one of the workshop's panels.
The second panel will feature additional discussion on the gender gap and public policy with Lori Curtis and Kate Rycbczinski (University of Waterloo) and Christine Neill (Wilfrid Laurier).
The event will also feature four talks on issues connected to the gap. Ana Ferrer (University of Waterloo) will speak on the labour market progression of Canadian immigrant women, Shintaro Yamaguchi (McMaster University) will discuss his research on parental leave policy, Aloysius Siow (University of Toronto) will present on marriage markets and Janice Compton (University of Manitoba) will speak on the impact of location and migration.