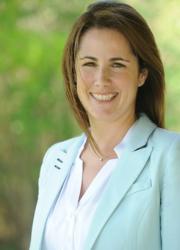 The University of Guelph's Faculty Association (UGFA) has awarded College of Business and Economics associate professor Tanya Mark with the Distinguished Professor Award for Excellence in Teaching. This award is intended to provide tangible recognition for excellent contribution towards teaching and learning.
Faculty are nominated based on criteria including classroom instruction, student consultation, thesis supervision and curriculum design. Mark's teaching experience includes both undergraduate and graduate courses including marketing strategy, product development and marketing theory. Earlier this year, she was awarded the 2015 William R. Davidson Award from the Journal of Retailing for her article, "Capturing the Evolution of Customer–Firm Relationships: How Customers Become More (or Less) Valuable Over Time."
Congratulations Tanya.