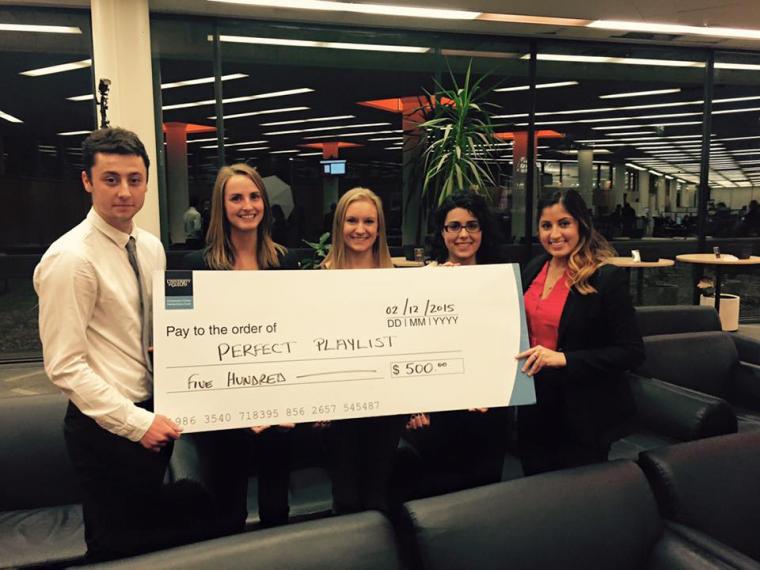 University of Guelph marketing students got an introduction to creating winning business pitches at this year's Gryphons' Den competition, an annual challenge where students research and present innovative business ideas to a panel of judges in three minutes or less. Modeled after the hit CBC series Dragons' Den, the competition is the culmination of MCS*4100: Entrepreneurship taught by M.J. D'Elia, a course that teaches students how to think and act like entrepreneurs.
After hearing pitches for 10 different ventures, Perfect Playlist, an app that gives users a medium through which to discover new music and create crowdsourced playlists, was announced as the winning idea. Developed by students Sophie Lemay, Michelle Rai, Allesandra Crossland, Ben Goldsmith & Lexus Arbuckle, the app has the potential to profit from a number of different users including businesses such as gyms, restaurants and doctors' offices. In addition to giving customers control over the music being played in the workplace, it offers the opportunity to vote up or vote down songs, block profanity and integrate advertising or announcements. Perfect Playlist would make money through subscription fees and affiliate fees if users purchased songs they liked through the app.
"We spent countless hours of the semester ironing out the small details of The Perfect Playlist as if the idea was going to become a major success, and the next best app," said Lemay. "As a result when it came to the pitch we were all so passionate and excited about the idea. We also became really strong as a group as we constantly pushed each other to think deeper to come up with the perfect solution to every little detail. We were a very supportive team and collaborated very well."
Other business ideas included a not-for-profit enterprise that helps reduce food waste by linking stakeholders in the food industry, and a near field communication-based card system that helps consumers and vendors exchange information at trade shows. All presenters were required to communicate how their business captures value and defend their business model in front of a panel of judges. According to D'Elia, students had to figure out a way to condense 10 weeks of research into an engaging, three-minute pitch that hooked the audience in the first 15 seconds.
"The best pitches identify the primary problem or pain point and then explain how and why their proposed solution is the best way to address that problem," said D'Elia. "With such a tight timeframe every sentence has to be meaningful; in particular, you need to include clear data points that support your case. When it comes to the delivery, the speakers need to convey confidence, passion and charisma. If the audience is still struggling to understand the idea at the one-minute mark, then it is a lost cause."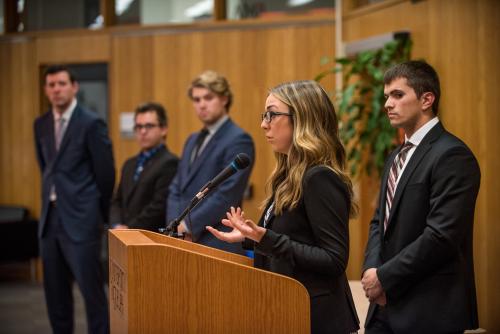 Gryphons' Den participants present their business idea. Photo credit: Andrew Goodwin
The pressure of the presentation pays off for Gryphons' Den participants, D'Elia says. Students have reported gaining an advantage in job interviews because of their experience in MCS*4100 and most often give very positive feedback on the experience in general.
"Often, students perform better than they expect and the event feels like an appropriate payoff for all of the work they put in during the semester. I have students who follow up with me after they've graduated to let me know that Gryphons' Den gave them an edge in a job interview. Being able to articulate the entrepreneurial process and the creative problem solving required for the course seems to resonate with some employers."
Gryphons' Den is one of many opportunities University of Guelph business students have to explore entrepreneurship. First-year business students participate in Lemonade Day [1], where they develop their own lemonade product and sell it in the University Centre, and Micro-Tyco [2], an international business challenge where students launch their own ventures and make as much money as possible for women entrepreneurs in developing countries. The Centre for Business and Student Enterprise (CBaSE) [3] offers a number of opportunities for students to discover their inner entrepreneur, from guest speaker events to their Hub Incubator Program [4].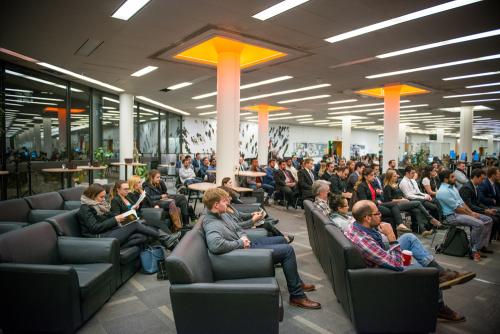 The Gryphons' Den audience looks on as students pitch their business ideas. Photo credit: Andrew Goodwin