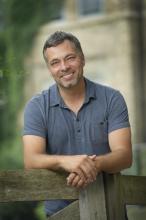 University of Guelph professor Bruce McAdams has been selected as an Ontario Hostelry Institute (OHI) Gold Award Honoree [1]. The OHI Gold Award recognizes outstanding contributions to the province's hospitality industry in eight different categories. McAdams is being honoured in the education category for his work as a faculty member at the School of Hospitality Food and Tourism Management.
McAdams, who started at the University of Guelph as a faculty member in 2009, joins a long line of previous honorees recognized for their efforts in education in the hospitality industry, including College of Business and Economics dean, Julia Christensen Hughes, former School of Hospitality, Food and Tourism Management director, John Walsh, and Food Day Canada president and culinary activist, Anita Stewart.
Throughout his career in post-secondary education, McAdams' research interests have included tipping, pedagogy and food waste. He is also the founder and academic advisor of the school's Garden2Table project [2] where University of Guelph students run a food education program for local youth. Prior to starting his career as an educator, McAdams worked in management roles within the industry, most recently as vice-president of operations for Oliver & Bonacini.
In addition to McAdams' Gold Award, Will Predhomme, who teaches Wine & Spirit Education Trust courses at the University of Guelph, has been named an OHI Fellow. School of Hospitality, Food and Tourism Management director, Statia Elliot, received the honour last year. McAdams and Predhomme will be recognized at the annual OHI Gold Awards Dinner on April 21 in Toronto.