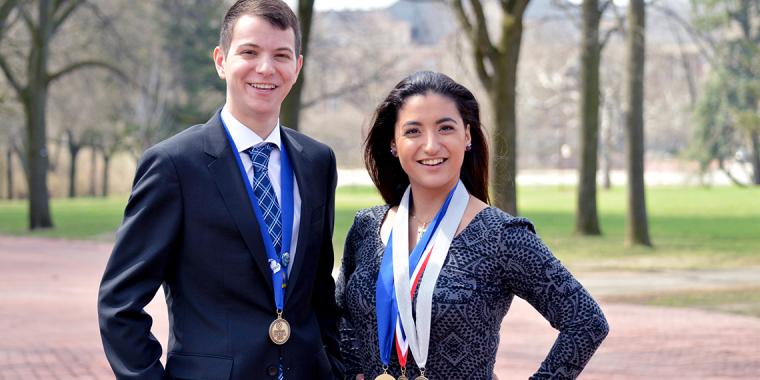 University of Guelph business students were well represented at the International Career Development Conference (ICDC) held recently in Washington, DC, where first-year students Emily Kaldis and Brandon Ringham brought home honours after competing against top DECA members from across North America. The annual conference not only allowed them to compete against their peers, but also sharpen their critical thinking, public speaking and problem solving skills, as well as network with and learn from business leaders.
Kaldis and Ringham earned their medallions through an intense case study competition, where they were given only 30 minutes to read and complete the case before presenting their solutions to a judge. After completing two rounds of case studies and a 100-question multiple-choice test, Kaldis, a Leadership and Organizational Management student, placed in the top 10 (out of 75 delegates) in the retail management category. Ringham, a Management Economics and Finance student, also presented two rounds of case studies and placed in the top 18 (out of 130 delegates) in the marketing management category. While the competition was challenging, it was an invaluable professional development opportunity for all participants.
"The people I met at ICDC changed my outlook on how to compete in the business world," said Kaldis. "I learned how to negotiate, think on my feet, present effectively – the list goes on and on. We not only networked with other delegates, we also connected with other DECA chapters and CEOs at the career fair."
Ringham added, "A lot of companies are facilitating interviews that focus on case studies similar to DECA to evaluate a candidate's critical thinking and problem solving skills. Many people think DECA is only for business students, but it can benefit anyone looking to strengthen their presentation and communication skills."
In addition to the competition portion of the conference, the ICDC also held a number of seminars that delegates could attend. Many of these seminars featured professionals who shared their experience and knowledge to inspire the attendees to embrace their passion for business and leadership.
"In one seminar, we got to spend the entire afternoon with a CEO of a company who developed his business while he was in high school," said Kaldis. "He brought us through a series of activities that focused on developing interviewing, communication, leadership, management and public speaking skills. These are things we can integrate into DECA, our education at U of G and our everyday lives."
She added, "I was a DECA member throughout high school and it developed my business skills and made me realize that leadership and management is where I want to be, it's where I thrive. It opens up so many doors to so many opportunities"
According to Ringham, who also served as the University of Guelph's first-year DECA representative, the conference also exemplified how important it is for students to participate in activities outside of class where they can apply their learning and make valuable career connections. His advice to first-year students arriving in September is to be open to possibilities.
"I would advise first-year students to come to university very open-minded," he said. "I would have never thought about attending an international conference like ICDC, let alone in first year, and that's thanks to the opportunities given to me by DECA."
The University of Guelph's performance at ICDC follows a successful year at DECA provincials [1] held in Toronto in January. Interested in DECA? Visit the DECA U Guelph website [2] to learn how you can get involved.