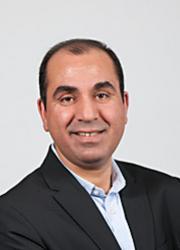 After starting his academic career as a refugee student under the World University Service of Canada, Khalil is enjoying the fruits of his labour and following his passion for teaching and making a difference through research.
Name: Khalil Rohani
Hometown: I was born in Kabul, Afghanistan, but now my home is Guelph, Ontario.
Previous education: Bachelor of Science majoring in Computer Science from the University of Regina; MBA from the University of Guelph.
Current program: I defended my PhD in Management with a focus on marketing and consumer behaviour.
Why did you choose to study at the University of Guelph?
I chose to study at Guelph for a number of reasons. First and foremost, I knew from previous experience that the faculty genuinely care about their students and they are leading scholars in their fields of specialization. Also, the campus is beautiful and green. My folks live in Guelph and I have many good friends here.
What has been your most memorable experience thus far in your graduate degree?
When I was done with my defence presentation and had answered examining committee and audience questions, I was asked to wait outside the room for the verdict. I was touched by the care and encouraging words of my PhD colleagues hanging outside in the hallway with me to make sure I was not left alone. That was a very touching moment for me.
Did you know you wanted to pursue further education when you entered undergraduate studies? If so, what steps did you take to get where you are? If not, what changed?
I was so happy when I completed my undergraduate studies at U of Regina and I had no intention of pursuing further education. However, after entering the MBA program at Guelph I had the opportunity to run undergraduate seminars for a business communication course. The encouragement from my former professors and students and my love for teaching and research changed everything and it was time to embark on a PhD.
Tell us about your research.
In terms of my research, my dissertation focuses on fairness and transparency in regards to how the information presented on a coupon will affect a coupon promotion's success. I have built several models using discrete choice modeling to predict the success of a sales promotion. This research has practical implications for businesses in terms of marketing strategy related to sales promotion. Although considerable attention has been paid in the couponing literature to the identification of factors that influence coupon usage behavior, relatively minimal research attention has been given to develop models and design effective coupon promotions.
What does the future hold for you now that you have successfully defended your doctoral thesis?
Currently, I am an assistant professor of marketing at Ted Rogers School of Management at Ryerson University. I would like to pursue my dream of working with students on meaningful research projects to make a difference in our society. I am also very proud to give back to Canada, my adopted country, where I was accepted as a refugee student at the University of Regina under the World University Service of Canada program.
What advice do you have for students considering graduate education at the PhD level?
You need to be sure that a PhD is what you want because it's a huge commitment. Once you have decided to go for it, never give up.
If you could sum up your entire experience at Guelph in three words, what would those words be?
Rewarding, encouraging and surprising.