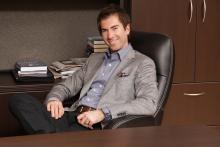 Lee Piccoli couldn't wait to graduate from U of G and start his own business. While his fellow classmates were applying for jobs, he left a few credits shy of graduation in 1997 to follow his dream. It was a risky decision, but it paid off for Piccoli, who is now the president of Fusion Homes, a house-building company that topped $50 million in sales this year.
Even as a high school student, Piccoli had entrepreneurial ambitions. "It was something that was always inside me," he says. But real estate wasn't his first choice of ventures. He looked into information technology and children's cosmetics before setting his sights on home building.
"The neat thing about building homes is seeing the fruits of your labour," he says. "You take a raw piece of land, and it really is a blank canvas. To have the opportunity to take that blank canvas and design a community is tremendously satisfying."
Piccoli started Fusion Homes with a partner who was already building custom homes. After buying out his partner in 2003, he grew the business brick by brick into a company that now employs almost 60 people. Fusion Homes built its first development in the south end of Guelph, followed by sites in London, Tillsonburg and Kitchener.
When scoping out locations for new developments, Piccoli doesn't let first impressions disguise a diamond in the rough. "Before I buy a piece of property, I always walk the land," he says. "That's when I try to envision what this is going to look like when it's complete."
Designing environmentally-friendly homes is important to Piccoli. Fusion homes exceed Ontario Building Code standards and use energy-efficient materials. "As I evolve in my career, I get more of that desire to give back," he says. The company also gives back to local community groups like Habitat for Humanity.
One of the challenges of starting your own business is doing everything yourself, says Piccoli, but that's where his five years at Guelph came into play. As an economics student, he took courses in accounting, finance and management, which gave him the skills he needed to build his business from the ground up. "I felt like I came out of that program really well-rounded," he says. "That well-roundedness has really helped me in business."