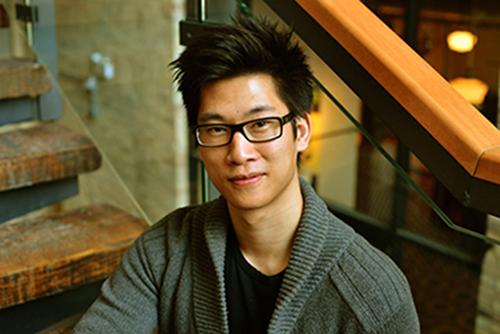 After the passing of his father, Ronald Tingchaleun and his mother spent every Saturday for the following eight months lining up at sales centers around the GTA in search of a new home. Ronald quickly learned how tedious and frustrating the search would become, shedding light on the lack of tools and resources available to families in similar circumstances. This experience would pave the way for LeoBold, a business started by Ronald in his final year of the Real Estate and Housing Program at the University of Guelph.
LeoBold certainly wasn't Ronald's first attempt at running a business in his years of study. Ronald dabbled in a few areas ranging from upholstery to catering all the way to photography, but settled, at least for now, on the idea of building a website that helps people find, research, rent and compare homes and neighbourhoods in Canada. 
"The opportunity hasn't shown up, I have to make one for myself."
Ronald always had inclinations toward entrepreneurship and assumed an opportunity would eventually present itself. After struggling to find a house for eight gruelling months, Ronald thought to himself, "The opportunity hasn't shown up, I have to make one for myself." He recalls putting pen to paper one night to list as many business ideas as possible, whether viable or not. In less than an hour, Ronald's vision for LeoBold was born. The next day, Ronald began to work on a prototype to demonstrate to potential customers.
"Life's a pitch."
As a student at Guelph, Ronald entered the Nicol Entrepreneurial Competition where he developed a business plan and competed in a two-minute pitch competition. Ronald's inspirational pitch captivated the panel of expert judges and qualified for the final round where he won third place and was awarded $1,000. Ronald now stresses the importance of perfecting your pitch and pays credit to the Nicol for exposing him to the world of pitching. Ronald's favorite quote, "life's a pitch," exemplifies the importance of understanding what you do as well as the ability to communicate it using simple language. "Oftentimes we sacrifice preciseness for simplicity," according to Ronald.
"A business plan is useless but essential."
Business plans are snapshots in time, failing to take into account the volatile and dynamic landscape in which a startup exists. In early stage startups, time is best spent building concepts and executing ideas rather than writing them down. In many instances, reality differs from what's on paper. On the flip side, a business plan is absolutely necessary when approaching investors or applying for grant money. "The Nicol Entrepreneurial Competition forced me to transform my ideas into a concrete plan," says Ronald, a great starting point for a young entrepreneur.
"I'm doing something I completely suck at and am not qualified for. All CEOs start here."
When reflecting on his experiences as an entrepreneur and founder of his own business, Ronald admits his journey has not been an easy one. "As an entrepreneur you're constantly working in areas where you have no expertise." Ronald believes in the importance of self-reflection and understanding. He continually strives to grasp every opportunity he can to improve both himself and his website.
"There is nothing that can prepare you for real business aside from real business."
Ronald received a Bachelor of Architecture in 2009 from Carlton University, but he felt that he lacked essential business skills needed to successfully start his own business. He went on to pursue his passion for real estate and entered the Real Estate and Housing program in CME. Although Ronald is grateful for his experiences with CME and the Nicol Entrepreneurial Competition, he feels that nothing can quite prepare you for the real world of business.
Ronald is now based at the Communitech Hub in Kitchener, where he has access to fellow innovators, mentors, market research teams and abundant inspiration. Ronald hopes to continually improve his website - "When it comes to a website, it's never done." - and plans to pilot his site in Guelph, Kitchener, Cambridge and Waterloo. He hopes to build a better local and regional community by assisting families in their search for high-ranking schools and neighbourhoods.