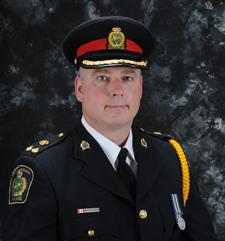 As Deputy Chief of Police for the Niagara Regional Police Service, Bryan MacCulloch leads a municipal police service with approximately 1,000 members and manages an operating budget of approximately $134 million. A self-proclaimed life-long learner, Bryan decided to pursue his MA Leadership at the University of Guelph to gain an education that complemented his 30 years of policing experience, focused on topics relevant to his leadership role, and allowed him to benefit from fellow professionals with diverse leadership backgrounds. He graduated in February 2014 on the Dean's List.
In this Q&A, Bryan reflects on his time in the program and offers advice to future MA Leadership students.
What drew you to the MA Leadership program at the University of Guelph?
I consider myself a life-long learner and I was drawn to the University of Guelph MA Leadership program because of the flexibility that the program offered to complete my studies while still maintaining a very busy and irregular work schedule. The MA Leadership program offered courses in an online format that were extremely relevant to the requirements of a senior leadership position. It also afforded me the opportunity to study alongside a wide cross-section of professionals that brought with them diverse leadership backgrounds that enhanced my overall learning experience. 
How did the program enhance your ability to lead in the workplace?
I work in workplace that is constantly changing.  As with most publically funded organizations, there is the reality of financial constraints and increased pressure to find efficiencies with existing resources. The MA Leadership program enhanced my understanding of the change management process, including my ability to lead through challenging periods of organizational change.
How did it benefit your career?
The MA Leadership program instils in leaders the importance of making evidence-based decisions.  I have incorporated this approach in my every day decision-making process and have ensured that all followers who are proposing to implement organizational change also adhere to this approach.  I have found this method has been extremely beneficial in convincing boards and other oversight bodies that organizational decisions, particularly those decisions with significant financial implications, are based on empirical evidence rather than theoretical conjecture. 
In addition to leadership, what other skills did the MA Leadership help you develop?
The MA Leadership program is quite condensed and in order to meet timelines, organizational and time management skills are all critically important.  Throughout the program, students are required to complete independent research, interpret the readings, formulate a position and then utilize written skills to build a case that supports their position. These skills are honed throughout the program by writing numerous research papers and participating in a variety of online discussions. I found that all of these skills were transferrable to my workplace and I continue to draw upon all of these skills on a daily basis.
What parts of the curriculum did you find most rewarding?
My organization, like most, has undergone tremendous change over the past several years.  These changes have included record numbers of retirements resulting in a huge loss of experience, as well as unprecedented technological advancements. As a result, the courses that resonated most with me were the leadership of organizational change, role of the leader in decision-making and coaching and developing others.  All of these courses were not only relevant but assisted me greatly in managing the issues impacting my workplace.
In your opinion, what is the best part of the program?
The program is set up so that working professionals can complete the course while continuing to work full-time and learn concurrently. The best part of the program by far was the two one-week residential sessions. These sessions provide an opportunity for everyone in the cohort to meet in person and work collaboratively in a multi-disciplinary team setting. The friendships made during the MA Leadership program will last a lifetime.  Leadership is not easy and as leaders we are often faced with many difficult and challenging decisions. It's comforting to know that at any time in the future I have an entire cohort that I can reach out to for advice and guidance.
What advice do you have for people considering the MA Leadership program?
The MA Leadership program is a tremendous learning opportunity that will allow you to not only grow as a leader but as a person. At first glance the MA Leadership program may appear overwhelming but it is very achievable so long as you remain organized and manage your time effectively.  There will be times when the workload will cause you to second guess your decision but fear not, everyone before you has experienced those same feelings.  Perseverance will ultimately pay off and like many former graduates of the MA Leadership program, I'm sure you will consider this to be one of your greatest personal and professional accomplishments.