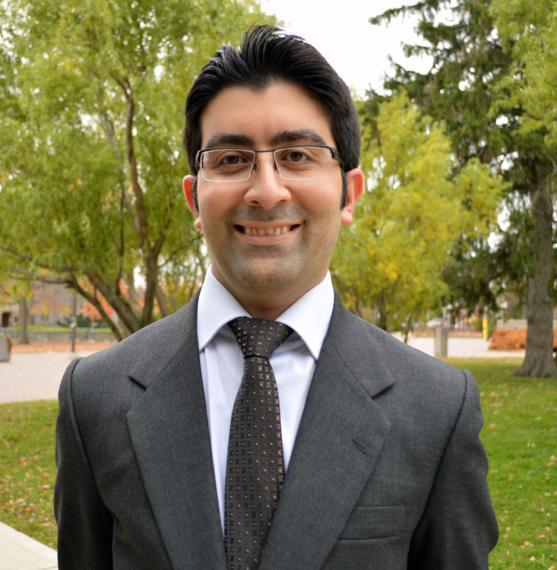 Name: Sina Bahramirad
Year: Started my PhD in September 2013, currently in year 4
Field: PhD in Management/Organizational Leadership
Hometown: I was born in Esfahan, Iran but currently I live in Guelph
Graduate students from a wide range of academic backgrounds enter the University of Guelph's PhD in Management [1], and Sina Bahramirad is no exception. After starting his education and career in software engineering, he realized he wanted to shift his focus to management research and decided to enter the program's Organizational Management field. Throughout his time at U of G, Sina has developed a research interest in accountability and open government, while also taking advantage of the many resources the university offers its graduate students.
In this Q&A, Sina discusses his student experience and research.
What drew you to the University of Guelph's PhD in Management program?
I was always interested to not only pursue my education to the fullest, but to explore the world as much as I can. At the time that I applied to the University of Guelph, I was working/studying in Malaysia. I was very interested in pursuing my studies in North America mostly because of the reputation of the universities on this continent. So, I applied to several universities including the University of Guelph. I got in touch with some of the faculty in the Department of Management and they were very welcoming and friendly. Also, I was impressed by the enthusiasm and excellence in research and teaching at the Department of Management and the University of Guelph. All of these contributed to my decision to become a Gryphon!
Why did you choose the Organizational Management field?
I started my postgraduate studies in the field of software engineering. As I was passing different years of my undergrad program I realized that software engineering is tightly tied with project management. I was working in a software company in Malaysia when I became curious and passionate about management, so, I decided to learn more about it. Now that I've been studying management at U of G, I'm so drawn into research on the topic that I even decided to become an academic in the field of business and management.
What have been the most memorable or rewarding parts of your experience so far?
I really appreciate the opportunities that we have to grow into scholars here at U of G. For instance, the opportunity for us to receive funding to attend and present our research at the most well-known scholarly conferences in the world is something that I really appreciate. I have had the most memorable moments in those conferences. For example, I had the opportunity to attend and present my research at the 9th International European Institute for Advanced Studies in Management (EIASM) Public Sector Accounting Conference, which took place this past September in Lisbon, Portugal. I also attended the Administrative Sciences Association of Canada Conference (ASAC) in 2014, and the 39th Canadian Academic Accounting Association (CAAA) Conference in 2015 in Toronto.
What do you enjoy most about being a graduate student at the University of Guelph?
I really like the resources that are available for grad students to improve their academic skills. For example, I've taken a few of the many teaching workshops offered by the Library. These along with a lot of fun events that are organized by the Graduate Students' Association (GSA) and many other things that can engage and support both domestic and international students are among the enjoyable aspects of being a grad student at U of G.
Tell us about your research.
Broadly speaking my research is on accountability in public sector. More specifically, I'm looking at the accountability relationship between a local open government and citizens. The role of accounting in shaping and maintaining this accountability relationship is my main interest. My research is a qualitative case study.
What drew you to this area of research?
My supervisor had a big role in my choice. Also, the Department of Management's research direction is very much focused on the notion of accountability, so this also had a role in igniting my interest in this area of research. I was also very curious to learn more about accountability in the newly introduced concept of open government.
Where do you hope to take your research in the future?
I hope I can continue this promising research in other organizations to have a comparative analysis, and can address some of the gaps in practice and literature in this area of research. I believe the path that I've chosen to research is very promising and can be very fruitful for future research.
What impact do you hope it has outside of academia?
I hope that my research can genuinely contribute to the management of accountability relationships in public sector organizations. Specifically, since accountability is an understudied notion in open government, I hope my research can shed some light on this area and contribute to both theory and practice.
What advice do you have for students considering their PhD in Management?
Be patient with your research. Don't expect it to be an easy journey. Appreciate all your moments in the academic environment and try to make the most of it! For me it has been the highlight of my life, so I really enjoyed it! Hope you do too.