Location:
On the north end of campus in Macdonald Hall, Room 107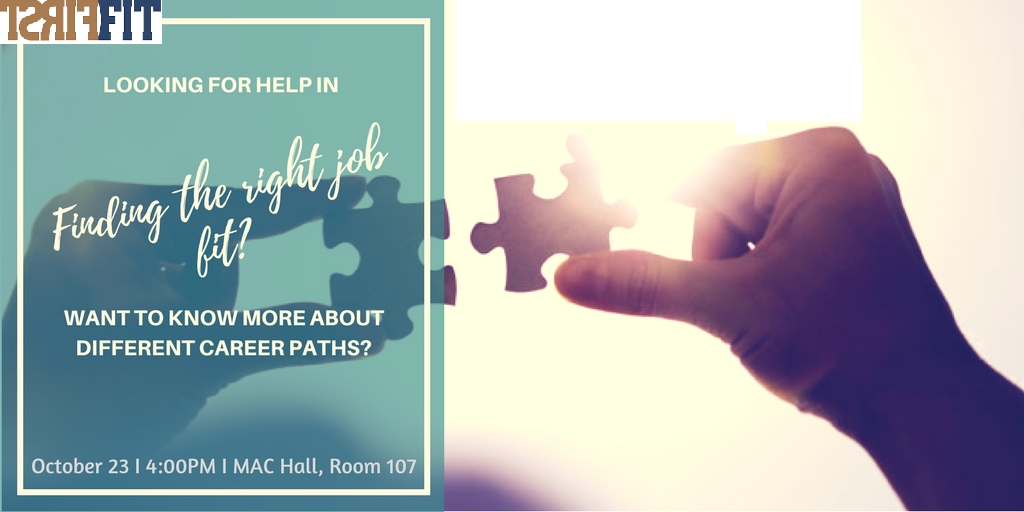 Looking for help in finding the right job fit?
Want to know more about different career paths?
Jan van der Hoop, the Founder of Fit First will be on campus to present an informational lecture on how you can take control over your career satisfaction. 
Are You on the Right Track?
Work is like any other relationship: compatibility makes a huge difference.
Think about it. You can probably point to a job or two you've had in the past where you felt right at home (and did great work as a result) and others where you felt like a fish out of water. Maybe you and your manager didn't click well; perhaps it was your co-workers. Or maybe the work itself didn't really agree with you.
You were the same person… so what was different? Your Fit in the job. Job Fit is a major predictor of your satisfaction, and the results you will generate for your employer. We all possess certain traits and preferences that make some jobs a better fit than others; unfortunately, most of us learn about them by trial and error over time.  Fit First Technologies is giving all students access to the TalentSorter Assessment Tool [1] to help you understand the types of jobs and career paths that are most likely to be most satisfying for you. Check it out here [1] before you attend!!
A minimum of 6 students is required in order to run the workshop. Students will be notified via email if the workshop is cancelled due to low registration numbers. If you have registered and are no longer able to attend, please cancel 48 hours in advance via Recruit Guelph.
 
 
This workshop is open to students in all majors and is part of the Career Development Program!
Register for this event on the RecruitGuelph website [2] (you will be prompted to access your Recruit Guelph account using your central login ID).
About the Business Career Development Centre
The Business Career Development Centre offers tailored career assistance to business students at the University of Guelph. It provides access to workshops, events and services including mentoring and networking opportunities, one-on-one career coaching, and assistance building your professional online presence. For more information, visit the Business Career Development Centre web page [3].