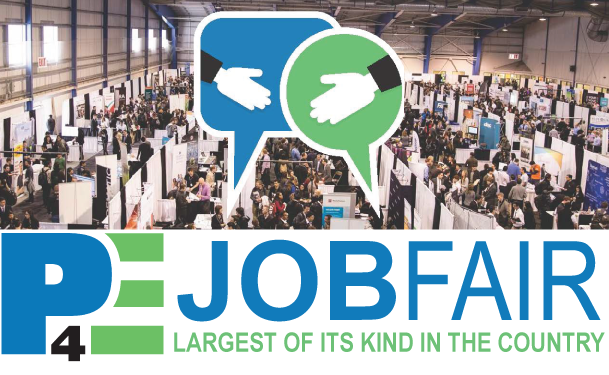 The P4E Job Fair is a collaborative effort between the University of Guelph, University of Waterloo, Wilfrid Laurier University and Conestoga College. Partnerships for Employment (P4E) was created in 1994 to better serve our students, alumni and employers through a sponsorship of annual Career Fairs and Job Fairs.    
[1]
You don't want to miss this Job Fair...it's the largest of its kind in the country!!
Students from all disciplines and across all semester levels are welcome to network with over 200 employers from diverse sectors!  
Free admission with Student/Alumni ID from sponsoring schools (students from other schools will not be granted access to the fair). 

Free shuttle buses to and from RIM Park, leaving from the front of the UC every 30 minutes. See below for the detailed bus schedule. 

Bring your student card with you to the event

FREE professional headshots

Visit the 2018 P4E Job Fair website [2] for a list of ways you can prepare yourself for the fair and to see a list of organizations who have registered. 

This event is our main Job Fair for the Winter 2018 semester. Don't miss out!
*Employers interested in registering for this fair, please click here.  [3]
 Bus Schedule
Buses TO the job fair leave (from the UC main doors) every 30 minutes, starting at 9:30 am. The last bus to the job fair is at 2:00 pm.
Buses FROM the job fair every 30 minutes, starting at 11:30 am. The last bus to the job fair is at 4:00 pm.
 Who Should Attend?
Students from all programs and all disciplines are encouraged to attend the fair. 
 Be Prepared for the Fair
Drop by Co-op & Career Services for a resume critique
Research employers & prepare questions to ask
Pickup a copy of the Job Fair Guidebook (at Co-op & Career Services). Guidebooks are available as of January 30th. 
Monday February 5th- Guidebook & Resume Blitz on Campus. Drop by the UC from 10:00 - 3:00pm, to pick up a copy of the guidebook and get an on-the-spot resume critique. No registration is required. 
Attend a "How to Work a Job Fair" workshop in Co-op & Career Services. Details are in the Recruit Guelph calendar. Space is limited. 
 Event Website
About the Business Career Development Centre
The Business Career Development Centre offers tailored career assistance to business students at the University of Guelph. It provides access to workshops, events and services including mentoring and networking opportunities, one-on-one career coaching, and assistance building your professional online presence. For more information, visit the Business Career Development Centre web page [5].