Location:
On the north end of campus in Macdonald Hall, 1st Floor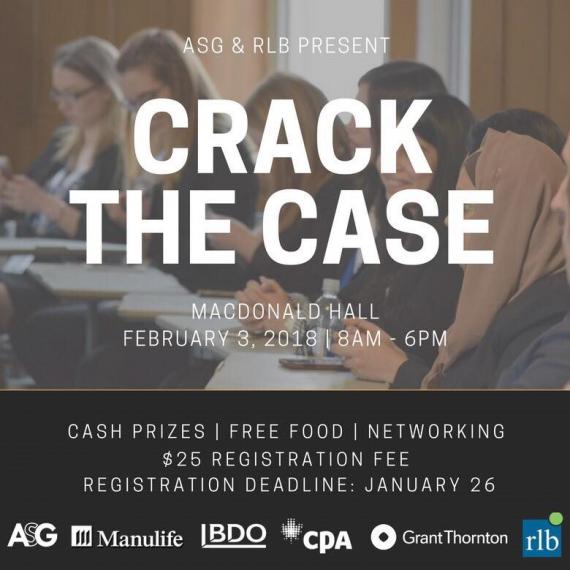 Do you want to expand your horizons and apply the theories you've learned in class to real life situations? Do you strive for a competitive environment and perform under pressure? Do you want take your public speaking and analysis skills to the next level? 
The Accounting Society of Guelph (ASG) is excited to invite you to participate in our annual 'Crack the Case' accounting competition, with our title sponsor being RLB. Representatives from Manulife, BDO, and Grant Thornton will be in attendance as well. No previous case experience is required. FREE food and beverages will be provided. PRIZES: $200 for Junior Team Winners, $500 for Senior Team Winners.
Register for $25 to compete as a student team here [1]. To volunteer use the sign up form here. [2]
**The case competition registration slots will be allocated on a first come, first serve basis. If any questions please e-mail asofg@uoguelph.ca [3].
About the Business Career Development Centre
The Business Career Development Centre offers tailored career assistance to business students at the University of Guelph. It provides access to workshops, events and services including mentoring and networking opportunities, one-on-one career coaching, and assistance building your professional online presence. For more information, visit the Business Career Development Centre web page [4].