Location:
TELUS Harbour at 25 York Street, Toronto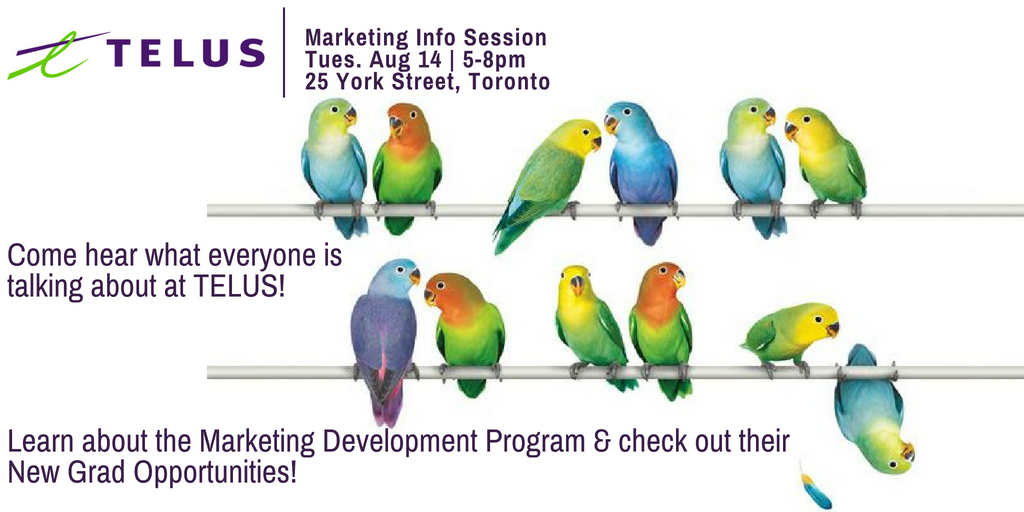 Come join in on Tuesday, August 14th, to hear more about the Marketing Development Program (MDP) and new grad opportunities at TELUS.
The Marketing Development Program is a two year rotational opportunity that allows you to try three unique roles to begin your career. The evening will be hosted at TELUS' downtown office and will consist of a presentation about the MDP program, information on how to apply and recruiting cycles, light dinner/drinks, and networking opportunities.
It's a great opportunity to visit the office and see what TELUS is all about!
This business casual event is open for students entering their final year of undergraduate studies, and spots will be filled on a first-come, first-serve basis. Dress your best and be prepared. Make sure they remember you - To order your own professional business cards for networking with TELUS's employees, fill in the order form on The Business Career Development Centre Resource Portal on CourseLink [1] and have your cards within 48hrs at ClickSigns in the University Centre!! 
Please note: students are welcome to arrive any time between 5:00-5:30pm, with the first presentation starting promptly at 5:30pm. **Emails with further details will be sent out to all attendees the week prior to the event.
To register for this event please visit the TELUS Event Page [2]
About the Business Career Development Centre
The Business Career Development Centre offers tailored career assistance to business students at the University of Guelph. It provides access to workshops, events and services including mentoring and networking opportunities, one-on-one career coaching, and assistance building your professional online presence. For more information, visit the Business Career Development Centre web page [3].