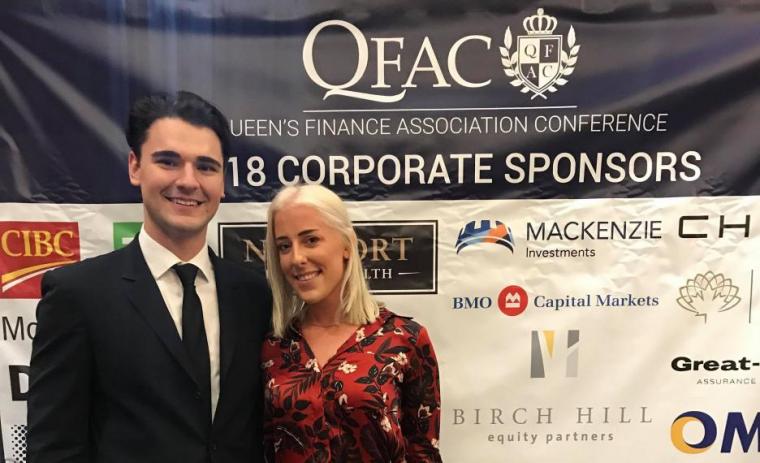 Two University of Guelph business students from the Guelph Student Investment Council [1] (GSIC) were invited to attend the Queen's Finance Association Conference [2] (QFAC) in Toronto at the Omni King Edward Hotel.
BComm students Haley DeBruyne and Luka Vulicevic represented the University of Guelph at the conference, which has become a well-recognized undergraduate conference in the finance industry with sponsors including Morgan Stanley, Goldman Sachs and other New York IB firms.
The conference also invited students from the Smith School of Business, Ivey School of Business, Schulich School of Business and Rotman Commerce.
As part of the conference, students were randomly placed on teams to compete in a stock pitch case competition by Burgundy Asset Management. Students had three hours to create a small cap stock pitch with a company listed on the London stock exchange. Finalists moved on to make their pitch to members of the Burgundy Asset Management executive team.
Congratulations to Haley DeBruyne, who competed with five other students to finish first place at the competition.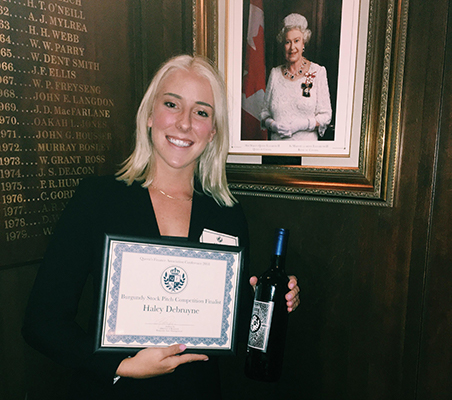 The winning team included:
Haley DeBruyne (University of Guelph)
Wasiq Wadud (Queen's University)
Anh Nguyen (University of Toronto)
James Boulter (Queen's University)
Robert Xiong (Queen's University)
Tharusha Liyanage (Queen's University)
The conference was also a chance for students to visit multiple Bay Street Firms, including tours of: Turtle Creek Asset Management, Bank of America Merrill Lynch, Burgundy Asset Management and Paradigm Capital.
---
Haley DeBruyne
Management Economics & Finance, 4th year
Guelph Student Investment Council – Equity Analyst, Healthcare Sector
CBESA Brand Ambassador
Luka Vulicevic
Management Economics & Finance (Co-op), 2nd year
Guelph Student Investment Council – Equity Analyst, Technology Sector
Economics and Finance Association, Director of Branding