U of G's College of Business and Economics (CBE) has received a $7-million gift from John F. Wood, further supporting the next generation of entrepreneurs, innovators and sustainably-minded business leaders.
The gift – the largest in CBE's history – will create the John F. Wood Centre for Business and Student Enterprise [1] in the College of Business and Economics. The Wood Centre will support CBE's ongoing mission to improve life through business by enabling students from any discipline – science, arts, business or social sciences – to identify a need, develop a solution and bring it to life.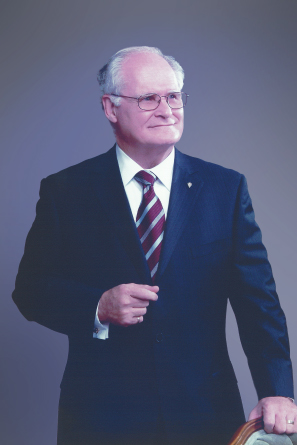 The John F. Wood Centre for Business and Student Enterprise will provide current and future students with access to the latest innovations and methods for teaching business effectively in an ever-changing world.
"To have a successful Canadian and global business leader like John Wood offer such a gift to our business college is inspiring," said dean Julia Christensen Hughes.
"Thanks to John Wood, we will be better able to contribute to the development of Guelph's robust entrepreneurial eco-system, and to the global business community.

We are grateful for his support and faith in our prowess as a leader in business education."

John F. Wood was president and chief executive officer of W.C. Wood Co. Ltd., which was among North America's largest appliance manufacturers.
"Our vision in the college is to develop leaders for a sustainable world. Entrepreneurship is absolutely central to this goal," said executive director of the centre, Melanie Lang. "Entrepreneurship enables families and communities to be self-determining. This incredible gift will enhance our ability to contribute to the development of Guelph's robust entrepreneurial eco-system."
The transformational gift will support:
---
Two new academic chairs in entrepreneurship and community engagement.
Continued funding, mentorship and office space for U of G startups through the centre's Hub Incubator Program.
Entrepreneurship and innovation courses and a new minor program in entrepreneurship, which will expose students to business fundamentals and the innovation process.
Field courses and applied community projects, in which students gain academic credit by working with socially and economically disadvantaged communities across Canada. An example of this is the Campobello Island project

[2]

where students visit and consult with the local community on sustainability.
About the HUB Incubator Program
---
The Hub is open to all U of G students and alumni who have an innovation or business idea, helping them develop a strong business model that can be rigorously tested and intelligently scaled. It offers funding, dedicated office space and access to experienced entrepreneurs.
Approximately 60 start-ups have received funding and support from the Hub Incubator Program since its opening in 2010, all of which are evaluated on their businesses social impact.
Examples of products/business started by U of G students include: