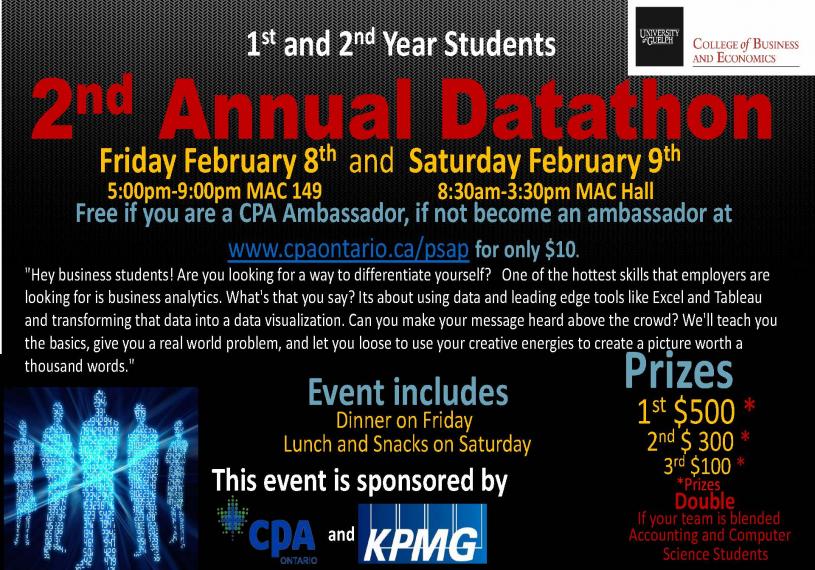 Hey business students! Are you looking for a way to differentiate yourself? 
One of the hottest skills that employers are looking for is business analytics. What's that you say? Its about using data and leading edge tools like Excel and Tableau and transforming that data into a data visualization. Can you make your message heard above the crowd?

Join us for the 2nd Annual Datathon for a chance to win some PRIZES:
1st prize: $ 500.00 
2nd prize: $ 300.00
3rd prize:  $ 100.00
**Prizes DOUBLE if your team is blended Accounting and Computer Science Students

We'll teach you the basics, give you a real world problem, and let you loose to use your creative energies to create a picture worth a thousand words.

SCHEDULE:
DAY 1 - Fri. Feb 8th 5-9pm in MAC 149 **Dinner will be provided

DAY 2 - Sat. Feb 9th 8:30am-3:30pm in MAC Hall **Lunch & Snacks will be provided


PLEASE NOTE: This event is FREE if you are a CPA Ambassador, if not become an ambassador at http://www.cpaontario.ca/psap for only $10. 
Register today to attend via ExperienceGuelph.ca [1]
About the Business Career Development Centre
The Business Career Development Centre offers tailored career assistance to business students at the University of Guelph. It provides access to workshops, events and services including mentoring and networking opportunities, one-on-one career coaching, and assistance building your professional online presence. For more information, visit the Business Career Development Centre web page [2].