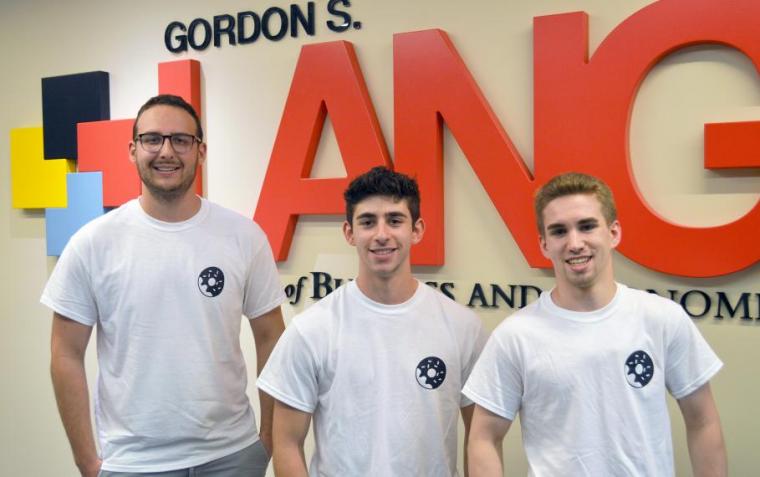 Three fourth year Lang business students are eagerly awaiting the opening of the inaugural Guelph Food Festival, an event organized through their start-up company 219 Media. The event takes place this Saturday, September 14th at York Road Park in Guelph.
The idea for a food festival came from their love for food and a discussion in their first-year dorm room three years ago. When it came to the logistics behind launching an event of this size, they relied on both their learnings in class and the support from Lang's Applied Business Project course (BUS*4550 and BUS*4560).
The entrepreneurship course is run by Lang professor Elliot Currie and gives students the ability to explore business ideas and identify solutions for successfully launching a business, all while earning a credit by making their idea a reality.
We sat down with the organizers to learn more about their business, the food festival, and how their courses at Lang have helped them get to where they are.
A Q&A with:
Daniel Klein, Bachelor of Commerce, Marketing Management
Ryan Konopny, Bachelor of Commerce, Marketing Management
Robbie Starkman, Bachelor of Commerce, Accounting
---
In three to four sentences, tell me about the festival you created?
The Guelph Food Festival is a unique culinary experience that aims to bring together local eateries from Guelph and neighbouring areas. People will enjoy many different types of food, from having tacos at El Milagro to eating specialty desserts from vendors like Beavertails. When planning this event, we kept in mind that our target audience is both University of Guelph students as well as the citizens of the local Guelph population.
What does success look like with this food festival?
Over the last year, we have been planning the Guelph Food Festival and we are very excited to see it come to fruition. Success can take a variety of forms in our eyes as there are many different aspects of the festival that we need to ensure run smoothly.
As this is our inaugural Guelph Food Festival, we are most excited to see it happen in the moment. We look forward to seeing a great turnout of both families and U of G students who have come to enjoy themselves at our event. For us, if people come out and have a great time, we will consider it a success.
Where did you get the idea to start your business, 219 Media?
The idea to start 219 Media came last summer when Ryan had an idea to create a food festival in Guelph. Our first course of action was looking for a venue for the event. After countless calls with many different venues, we found one venue that would fit well. As we were filling out forms for the permit, we were asked for our company name. In that moment, we created 219 Media. The name comes from Ryan and Daniel's residence room in first year, Lambton 219, where all three owners would spend their time creating new ideas that would one day lead to 219 Media.
What strategies have you undertaken to help market the event?
Since this is the inaugural year for the festival, we have really focused on executing an effective marketing campaign. Through an extensive social media campaign, we have been able to build a large reach and generate awareness about the festival, which will convert to attendees. In addition, we partnered up with some local Guelph companies to help us execute newspaper and TV network ads, which have increased awareness of the festival amongst Guelph citizens.
We found that targeting Guelph students over the summer was a rather difficult feat, as everyone is spread out and not in one location. Therefore, over the summer months we focused our priority on targeting Guelph citizens. Once September came, we shifted our marketing efforts to the students. We have used traditional strategies like blanket flyer campaigns alongside our ongoing social media campaigns.
Do you each have a specific role within the company? If so, what are they?
Since our company is in its early stages, we are all working similar jobs around planning and running the food festival and other events. We have, however, divided ourselves into three different roles based on our strengths and education. Ryan Konopny is our Director of Events, which means he leads the planning stages of the events we run. Daniel Klein is our Creative Director, which means he leads the marketing and design aspects of the company. Robbie Starkman is our Financial Director, which means he leads the financial information and budgeting for 219 Media. These roles help us focus on important elements when running our company and allow us to work together to ensure our events run as smoothly as possible.
Why did you decide to start a food festival?
The reason we started a food festival stems to Ryan's passion for food. He runs his own food blog on Instagram and has attended several food festivals in the past. When we brainstormed event ideas, we thought it would be a good idea to launch a food festival in Guelph. We believe that a food festival would resonate with the students, especially if it occurs during the second week of school. In addition to bringing people together with great food, we also believe that an event like this is a great way to further connect the city.
How did Prof. Currie and the applied business course help you with launching your business?
Professor Currie was very helpful throughout the process of launching 219 Media. We initially approached Prof. Currie with the idea of a food festival over a year ago and he had some interesting ideas and advice to offer. One of the most impactful ways Prof. Currie helped us was with our organization and processes within the company. From setting individual goals to dealing with minor conflicts, Prof. Currie was extremely helpful in pushing us over obstacles. We are excited to continue working with him in the future.
Are there any other "hands-on" courses that you've taken here at Lang/UofG that have helped you in developing your business?
During our Bachelor of Commerce degree, we have all taken several useful courses that have helped guide us through our education and entrepreneurial initiatives. Among the courses we have taken, there are a handful that stand out as courses that truly helped us apply business practices to our own lives. A standout course was Applied Financial Accounting, which helped us develop the financial side of the business. This course involved practical exercises where students were accountants for a company, and over the course of a month, students had to prepare the financial reports and budgets for the company. This application to real life helped develop the financial side of our company, since the practices of implementing financials with our business are very similar to what the course taught.
Are you hoping to continue with 219 Media after graduating?
Absolutely! That was one of the main motivators for starting 219 Media while we are all still in school. We want to build a solid foundation to our company that will allow us to continue operating after school. Whether that means more food festivals, or new events altogether, we are looking to continue this business for as long as we can.
 
---
The Guelph Food Festival kicks off this Saturday, September 14th at York Road Park in Guelph. Follow along on their Instagram [1].