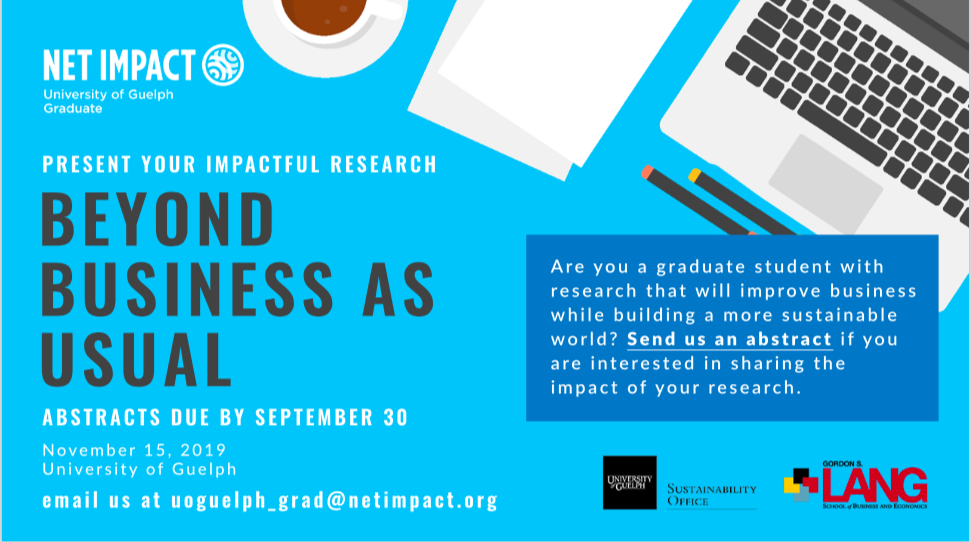 Hosted by Net Impact University of Guelph - Graduate
Traditionally, organizational success has been measured narrowly in terms of profits, retention rates, and shareholder wealth. This approach has largely ignored how businesses can positively contribute towards a flourishing society. In September 2015, Canada and 192 other UN (United Nations) member states adopted the 2030 Agenda for Sustainable Development. This agenda includes 17 sustainable development goals (SDG's) that serve to facilitate sustainable development through gender equality/empowerment, climate change practices, reduce of poverty, and elimination of world hunger among others. These goals address pressing ecological and social challenges, while simultaneously advancing greater prosperity. Increasingly, business leaders have recognized that embedding sustainability in the day to day operations of their organizations is essential for achieving transformational change toward the SDG's. The "Beyond Business as Usual" conference hosted by Net Impact Guelph will provide a platform for graduate students to share ideas from their research on how to build and advance this positive capacity in business.
This conference provides a unique space for both new/experienced researchers and practitioners to learn, network, and collaborate. Our mission is to make "sustainable business practices" simply business as usual and doing so will require collaboration across sectors and academic disciplines. As such, we encourage abstract submissions from a range of fields including, but not limited to, Business, Economics, Social Sciences, Applied Sciences, Engineering, Information Technology, Agriculture and Environmental Sciences. The top research presentations will be recognized with a "Beyond Business as Usual Innovative Researcher" award. Graduate students will have opportunity to attend a networking event with potential employers, faculty, and staff. Whether your research is at the development, analysis or findings stage, students are welcome to participate. To present your research at this conference, please submit 150-200-word abstract to uoguelph_grad@netimpact.org by September 30th 2019. Acceptance to the conference will be confirmed by October 15th 2019.