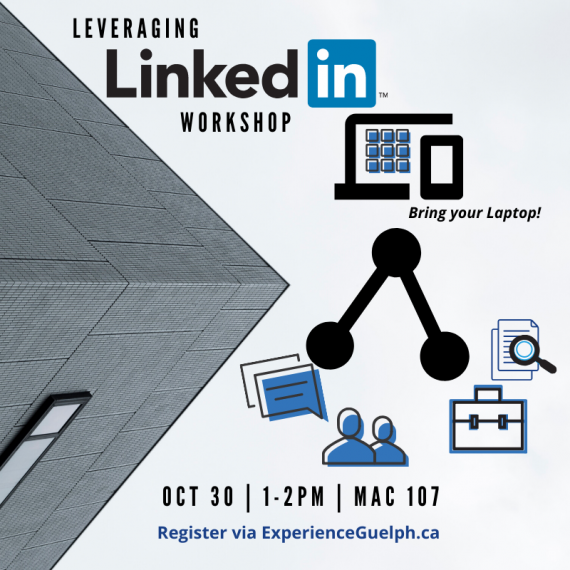 Participate in this hands-on workshop to learn strategies on how to enhance your profile, network effectively and maximize your presence on this powerful networking tool!

Prove your dedication; put in the time and effort required to succeed in your chosen career -employers will see that. We can help! Bring your laptop and learn some tips and tricks to navigating your own LinkedIn profile to make the most of it and start building those all-important connections!

LinkedIn is an invaluable resource for students, here are some reasons why:
Networking- You never know when a connection will come in handy and the bigger your network, the more chance you have of being referred to a job role. 
Job Search- You can program LinkedIn to send you job alerts for certain companies, industries or specific job titles, so that you'll never miss out on a great opportunity.
Professionally Recognized- Having a LinkedIn account allow companies to find you with ease and, most importantly, to find the information that you want them to find.
Space is limited. Register via ExperienceGuelph.ca [1] to attend.

A minimum of 6 students is required in order to run the workshop. Students will be notified via email if the workshop is cancelled due to low registration numbers.
About the Business Career Development Centre
The Business Career Development Centre offers tailored career assistance to business students at the University of Guelph. It provides access to workshops, events and services including mentoring and networking opportunities, one-on-one career coaching, and assistance building your professional online presence. For more information, visit the Business Career Development Centre web page [2].