Location:
Online via Cisco Webex. Joining info will be provided to confirmed attendees.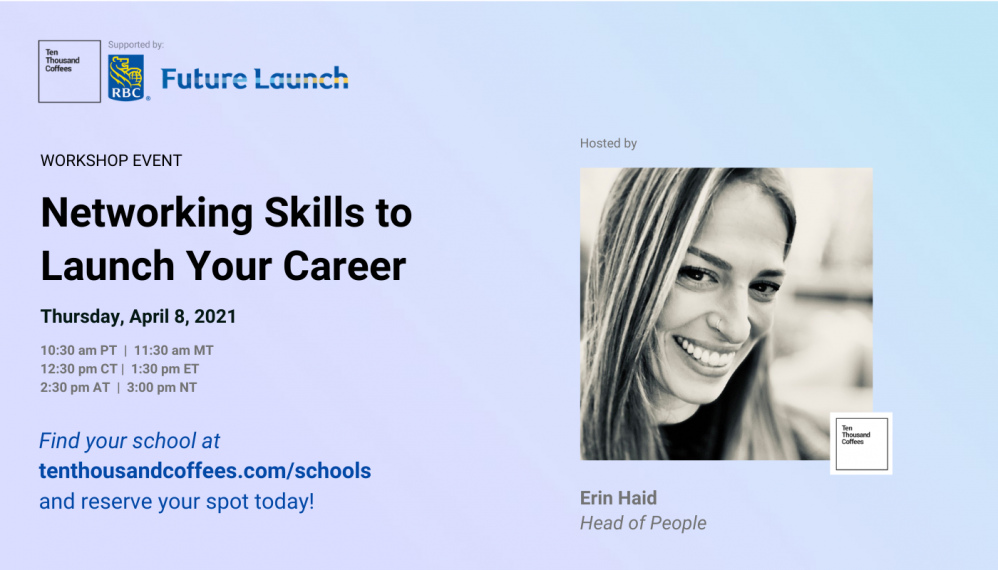 We all know the best time to network is when you have a job (instead of when you want to find a job!) In today's virtual reality, this is hard to do, particularly if you don't know how.
In addition, we know that fear and nerves can get in the way when trying to network at a first job or internship. But don't worry, we have you covered! Join us for this discussion and workshop to Master Networking Skills to Launch Your Career.
This session will cover why it's so important to build networks that will catapult your growth and career success. We will also workshop the skills to become a superstar networker in a virtual environment - an essential soft skill that will be handy forever!
**Our special guest for this Office Hour is: Erin Haid [1], Head of People, Ten Thousand Coffees
**The event will be held through both the Lang School of Business & Economics Cafe and Lang First Year Student Connect Hub on the Ten Thousand Coffees platform. Event ink: https://uoguelph.tenthousandcoffees.com/rsvp/uog-business-cafe/event/master-networking-skills-to-launch-your-career-2?eventId=605c9559fe16f2000a22c4ef  [2](Joining info will then be provided to confirmed attendees).
Join one network or both!  [3](Lang First Year Student Connect hub is exclusively for first-year students) Use your @uoguelph.ca email address to join today and start connecting!
About the Business Career Development Centre
The Business Career Development Centre (BCDC) offers tailored career support to business students at the University of Guelph. The BCDC provides access to workshops, events and services including mentoring and networking opportunities, one-on-one career coaching, and assistance building your professional online presence. The BCDC strives to ensure the legitimacy of external events and workshops posted we promote to students. As a participant in any event or workshop, we encourage you to exercise due diligence, and research the integrity of the organization(s) prior to attending. If you have any questions or concerns, please contact our office.