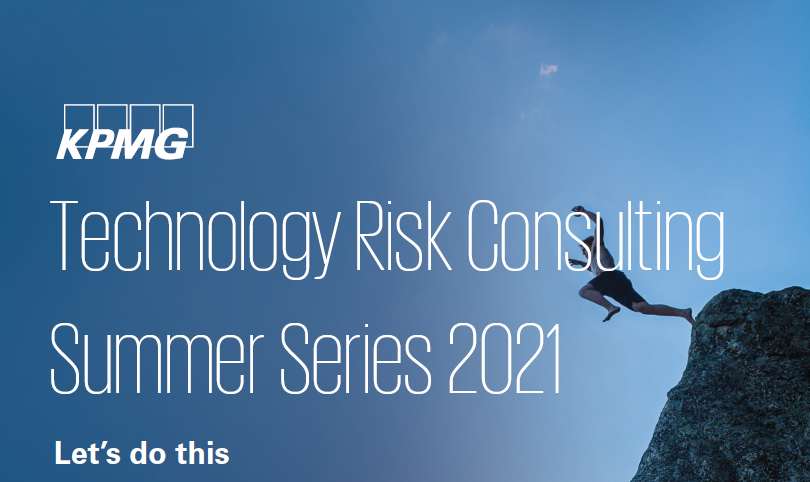 KPMG is excited to bring their very first summer series, featuring their Technology Risk Consulting practice! There will be three sessions over the course of the summer and you will have a chance to meet and network with KPMG professionals within TRC.  They will be holding the Virtual Summer Series for students looking for Full-Time Consultant opportunities. Don't miss it!
Dates for the Summer Series:
Tuesday, June 22nd, 2021: Leader Panel
Thursday July 15th, 2021: A Day in the Life – with a TRC Consultant
Thursday August 12th, 2021: Stay Ahead of the Curve
Monday August 30th, 2021: Open House

Time: 5:30 PM to 7:00 PM
Location: Virtual (link to be shared at a later date after successful registration)  
Audience: Business Technology students (pursuing CPA and Non-CPA routes) who are able to start Full-Time in Fall or Winter 2022
 
 
Register TODAY: Capacity is limited so, if you're interested, please register here [1] by completing a short Qualtrics survey. Students must submit their resume, cover letter and transcript with the completed survey. Registration gives you access to all of the sessions. The registration deadline is Thursday, June 10th, 2021 at 12:00pm (noon). Following the submission deadline, KPMG's Campus Recruitment team will be in touch with those students selected to attend.
About the Business Career Development Centre
The Business Career Development Centre (BCDC) offers tailored career support to business students at the University of Guelph. The BCDC provides access to workshops, events and services including mentoring and networking opportunities, one-on-one career coaching, and assistance building your professional online presence. The BCDC strives to ensure the legitimacy of external events and workshops posted we promote to students. As a participant in any event or workshop, we encourage you to exercise due diligence, and research the integrity of the organization(s) prior to attending. If you have any questions or concerns, please contact our office.