Location:
Online via Zoom (Zoom link will be emailed to you 48 hours prior to your workshop date)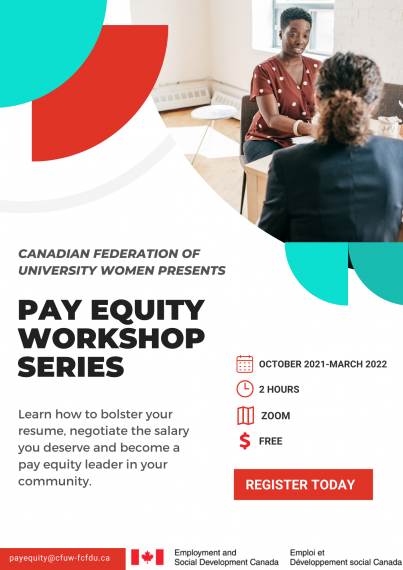 Breaking Down Barriers & Building Careers
Join the the Canadian Federation of University Women (CFUW) for one of their Pay Equity Salary Negotiation Workshops and learn how to bolster your resume, create a personalized budget, and learn evidence-based negotiation strategies. CFUW is offering a series of free pay equity virtual workshops from October 2021 – March 2022.
⠀
The three workshops include:
A pay equity 'hands on' salary negotiation workshop, geared toward graduating college and university students. With an introduction to the gender wage gap in Canada, this workshop offers practical tools to help young women identify their transferable skills, bolster their resume and learn evidence-based negotiation strategies. 

'Train the Trainers' workshop, where students and staff at colleges and universities are trained as facilitators to deliver the workshop for future utilization.  

Pay equity advocacy campaign workshop, focusing on how to raise public awareness about the pay gaps in Canada, and how to mount a campaign and be a pay equity leader in the community.
There is no cost to attend the workshops as CFUW has received a grant from Employment and Social Development Canada. 
Each workshop is approximately 2-hours in length via Zoom, and participants may sign-up for any or all three workshops. The workshop materials are available in English and French. 
Participants are invited to register here [1], or may visit our Facebook [2], Instagram [3] or Twitter [4] to learn more.
About the Business Career Development Centre
The Business Career Development Centre (BCDC) offers tailored career support to business students at the University of Guelph. The BCDC provides access to workshops, events and services including mentoring and networking opportunities, one-on-one career coaching, and assistance building your professional online presence. The BCDC strives to ensure the legitimacy of external events and workshops posted we promote to students. As a participant in any event or workshop, we encourage you to exercise due diligence, and research the integrity of the organization(s) prior to attending. If you have any questions or concerns, please contact our office.