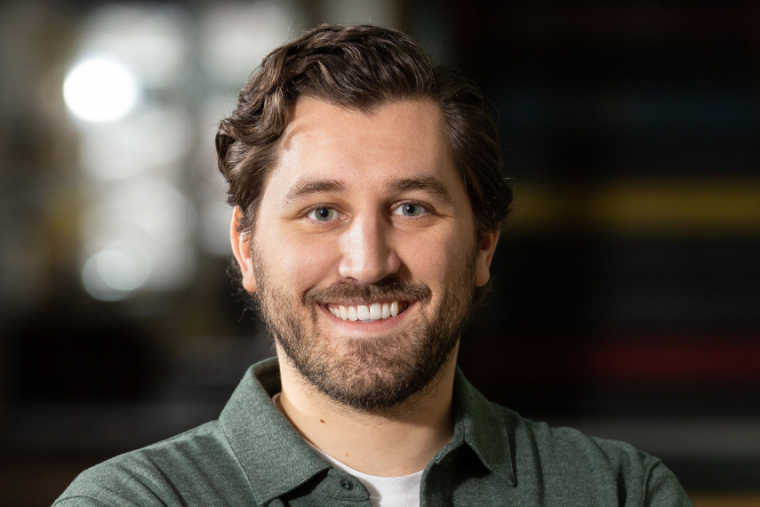 Alex Mitro is the new program coordinator at the John F. Wood Centre. He works to apply his knowledge of entrepreneurship towards helping students achieve their goals of running a business.
Tell us about yourself. 
I am a Guelph native, born and raised, and I absolutely love this city. When deciding on a university to attend, the choice was already very clear to me. I received both my undergraduate (BSc. Cell Biology and Genetics) and graduate (Master of Biotechnology) degrees here at the University of Guelph.
After University I worked at Bioenterprise – which is an Agri-food small-business accelerator that helps new companies access grants, mentorship, and resources. During my time at Bioenterprise, I quickly learned that I loved working with small, innovative businesses and wanted to help businesses grow. Shortly after, I joined the team at Escarpment Labs, a start a start-up focused on producing fresh yeast for Canadian breweries. During my 5 years at Escarpment, my role changed a few times. I started by assisting with market research, then moved to a lab position where I developed their quality control programs, and then moved into a project management/ business development role assisting with projects centred around expanding the business. Now, I work here at the John F. Wood Centre [1], where I get to bring my knowledge of start-ups, project management, innovation management, and the food and beverage industry to help new companies emerging from the UofG get their start.
What are your key responsibilities as the Program Coordinator at the John F. Wood Centre?
My key responsibilities are to coordinate all events at the Wood Centre, which includes our Workshop Series [2]. The workshops are open to any current students, staff, and faculty on campus and are geared toward folks with an entrepreneurial or intrapreneurial mindset. The goal for each workshop is for folks to walk away with new skills or a new mindset in approaching challenging scenarios in the workforce – essentially to prepare them for their careers despite the discipline or industry. For example, this semester we will be running workshops on branding, start-up finances, mastering your presentation skills, and how to build sustainability into your business as it grows. In addition, I also manage our on-campus MakerSpace [3]. Current students, faculty, and staff as well as alumni can access any of the MakerSpace [3] equipment (ex. 3D printers, silk screen, Cricut) to help turn their ideas into products or prototypes.
What are you most looking forward to in this role?
I am really excited to see what businesses students create! As I get a better understanding of the types of businesses forming out of the University, I hope to gear the workshop series towards supporting those folks. I would also like to run more specialized, smaller workshops where folks have the chance to use equipment and produce physical products. Essentially, I want to provide folks with the best knowledge, technical experience, support, and resources possible to grow their business to create positive change in our community.
Why should students attend the upcoming workshop series?
Students should attend the upcoming workshops because they are a great way to get a deeper understanding of niche topics in business. For example, a classroom can teach you the theory behind a good marketing and a social media campaign – but how can you apply that to a new business that has no followers and an account you created yesterday? Where do you start? What is your company's identity? Or you may be starting a new business but have no idea how to manage the company finances. What is a journal entry? By bringing in guest speakers with real-world experience, fostering the development of strong networks, and by providing tangible examples to common workplace problems, I hope the students who attend the workshops leave with a better understanding of where to start and how to tackle real issues that they will be faced with as they embark on their careers. Also, did I mention the workshops are free? 

Interested in starting your own business?  Sharpen your skills at workshops hosted by the John F. Wood Centre
Learn more about the John F. Wood Centre's upcoming workshop [4]