Lang Scholar, Amanda Wuth (PhD)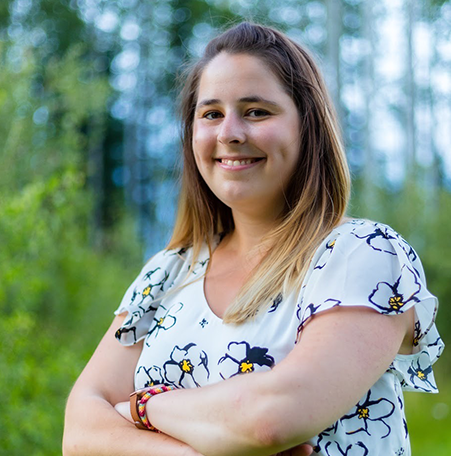 Amanda Wuth, PhD Management student
Master's level degree: H.B.Sc in Forensic Psychology from the University of Toronto, and an M.A. in Experimental and Applied Psychology from the University of Regina
PhD Management stream: Organizational Leadership
How have you helped improve your community?
"Responsible leadership and community involvement are a large part of my life inside and outside of academia. During my undergraduate degree, I chaired various arts and intramural committees. I was heavily involved in residence life, and strived to foster student engagement within my community. During my Master's degree, I focused more on pursuing leadership opportunities within my academic community. I worked as a Lead Teaching Assistant, and helped organize assignments and allocate responsibilities for the course instructor. I also served as a Graduate Student representative on various Academic Subcommittees, including Faculty of Arts Council, and Research and Graduate Studies Committees. I provided input into academic and university policies while representing my peers and our collective opinion. Outside of the academic world, I also volunteered extensively with Girl Guides of Canada and Search and Rescue operations. Most of my work with Girl Guides of Canada has focused on helping plan events and mentor young women. My field of study enabled me to encourage young women to pursue their interests in STEM-related fields. Alternatively, my work with Search and Rescue enabled me to give back to my community by assisting police agencies with search efforts. "
What does it mean to be named one of the inaugural Lang Scholars?
"I am honoured and humbled to receive this award and to be one of the first recipients of the prestigious Lang Doctoral Scholarship. Collaboration, research application, and sustainability are pillars of the Gordon S. Lang School of Business and Economics. These are the same fundamental values that I strive to embody in my research and throughout my life. It is humbling to be recognized and rewarded for these attributes, and I feel well supported knowing that my department is invested in supporting its students to grow into actively engaged and multifaceted, community members and scholars. "
Why did you choose Lang over other business schools?
" Initially, I had not considered business school to be part of my career trajectory as I was confident that I would continue moving forward in psychology. My research interests evolved, and I came to realize that the field of business promotes research application in a way that psychology currently does not. The program values and research being conducted by the professors at The Gordon S. Lang School of Business and Economics, aligned with many of my core values and interests. It is rare that one finds a graduate program that is committed to helping its students achieve a healthy work-life balance while preventing burnout but the Lang Doctoral program appears to be just that. Through consultation with my adviser, I realized that this program offered everything that I was looking for in a grad school experience."
How do you think business can be used as a force for good?
"Business is at the root of everything—it impacts how we spend our time, influences policymaker decisions, and leads to innovation and change. The world's resources and our personal capacity are finite, and this means that businesses need to diversify, innovate, and adapt in order to remain sustainable and competitive. Strong leaders can innovate, bring about change, and pave the way for healthier, more sustainable, and responsible business practices. It is through this innovation that business can be used as a force for good."
What research area do you plan to explore during your degree?
"I will continue my research of our thoughts, behaviours and expectations (organized as cognitive schemas), but I will be focusing on their prevalence in and impact on workplace environments. My first project will involve developing and validating a scale that will be used to assess workplace cognitive schemas."
What do you hope will be the impact of your research?
"By developing and validating a self-assessment tool that other scholars can use interdisciplinarily, my research should make significant contributions to the fields of management and psychology. The research will advance our understanding of how people differ in their perception of their surroundings, and how those differences impact their workplace behaviour and happiness. As a result, I am hopeful that my research will have greater implications for work-related policies and occupational health and safety. If we can understand what advantages and adaptations different workplace schemas provide people, then we should be able to investigate ways to replace negative workplace schemas with positive ones, and build more positive workplace cultures. I believe my research will help us get there. "