Lang Scholar, Esther Oduraa Dwamena (PhD)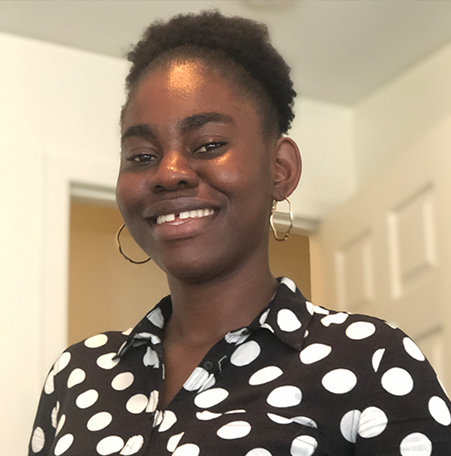 Esther Oduraa Dwamena, PhD Economics student
Master's level degree: Central Michigan University, Master of Arts in Economics.
How have you helped improve your community?
"I was an active participant in the 2018 International Citizen Service, a development program in Ghana. My team engaged in public education on issues of girl-child education in the northern part of Ghana and provided producers of shea butter with cost-effective ways of producing the shea butter, which increased their profit margins through product rebranding. This informed me of how every bit counts to make a difference. Being passionate about the welfare of others, I volunteered again with Special Olympics Michigan in summer 2019 and I was glad to be of assistance to the people."
What does it mean to be named one of the inaugural Lang Scholars?
"To be a Lang scholar is the responsibility to be a leader or role model for the next generation and the opportunity to impact lives positively."
Why did you choose Lang over other business schools?
"I chose Lang business school because of the seasoned faculty and excellent resources that students are privileged to have. The curriculum at the department of Economics aligns with my interests and this played a role in my choice for the Lang business school. Furthermore, I am pleased to be honored with a funding opportunity."
How do you think business can be used as a force for good?
"It is not enough for a business to make money for itself but it is expected to contribute to society in making it a better place. Businesses need society as the society needs them; this creates an avenue for a business to be used as a force for good. Businesses are established for profit gain and therefore companies create measures that aid them to achieve greater value, but the actions of these businesses affect the society and contrariwise. There exist what is called externalities and in this context, they are the consequences of business activities on the society that are not reflected in the cost of production. These externalities can be positive or negative and businesses can be used as a force for good in terms of the benefits it creates for the society while lessening the harm caused to it. Businesses and society can benefit simultaneously through good measures put up by companies instead of their selfish strategies to gain profit. The continuing success of a business in a way depends on a stable and sustainable society. Businesses can improve the societies in which they have been established, for instance, the organization can encourage employees to volunteer their services to charities, not-for-profit activities, and other philanthropic projects. Businesses can create foundations, build schools that develop the skills of the younger generation who will become essential human assets."
What research area do you plan to explore during your degree?
"I plan to explore the area of human capital and income inequality. Income is perceived to determine the quality of life and influence economic activities of the society. Therefore, income inequality in a way can be detrimental to economic growth. The contribution of human capital to inequalities in income is vital as one's educational attainment is said to determine their earnings/wealth. Human capital embodies the knowledge, skills and talent of an individual(s) of a country. These human resources are important as they can be directed to accomplish the goals of a nation. Human capital development is as important as the development of material/physical capital. I wish to explore the various health and educational policies toward human capital investment; what organizations, policymakers and nations have put in place in terms of reducing human capital inequality as well as income inequality."
What do you hope will be the impact of your research?
"To help make better and efficient policies that will bridge the human capital and income inequality gap. It will help emphasize the importance of investing in human capital, which serves as resources to accomplish the goals of a nation."