Lang Scholar, Ryan Difrancesco (BComm)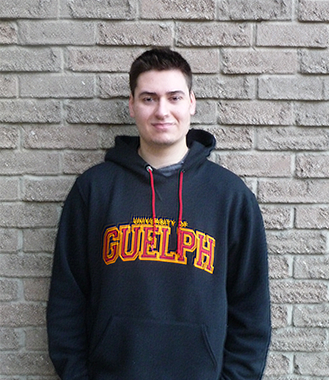 Ryan Difrancesco, BComm (2020 cohort)
Sport and Event Management
Hometown: Cambridge, Ontario
How have you helped improve your community?
"I have volunteered with several programs within my community; such as the Ride For Dad events, filming for Rogers TV for Kitchener Ranger Games, and also at my high school, St. Benedicts. The most notable of my contribution to my community was applying for the Riddell Smarter Football grant for $10,000 in new equipment on behalf of my high school's football program - we were the only Canadian program to receive the award. Working with Riddell helped me realize how businesses could be used as an avenue to improve the community and can help assist others in need."
What does it mean to be named one of the inaugural Lang Scholars?
"It means so much to me to be named one of the inaugural Lang Scholar. I was absolutely honoured in knowing I was to receive a scholarship that represents the virtues and spirit behind the school that were demonstrated in the man whose name it bears. I also feel very privileged to be associated with the other amazing recipients of this award that have accomplished so many incredible things and am honoured to be a part of this experience with them."
Why did you choose Lang over other business schools?
"I actually choose Lang's School of Business for the new Sport and Event Management major and the reputation of the University of Guelph for being a respected institution amongst employers that also provides a welcoming environment and has a supportive community."
At Lang, we are committed to developing leaders for a sustainable world. How do you think business can be used as a force for good?
"The opportunity I had working with Riddell showed me how businesses can get involved with their communities to help make a difference. I want to be able to do the same with my future career and provide assistance to others. I feel that part of being a successful business is being recognized for the good it can do for others and not just to be profitable. We all win when we all prosper and work together."
What do you hope to do with your career?
"In the future, I would love to be able to have a career involved with sports specifically football. I feel that sports has the power to bring many different individuals together for a common goal and to bring out the best in people. This is something I hope to continue to take part in through my career in business."