Lang Scholars, Jessica Kouleas (BComm)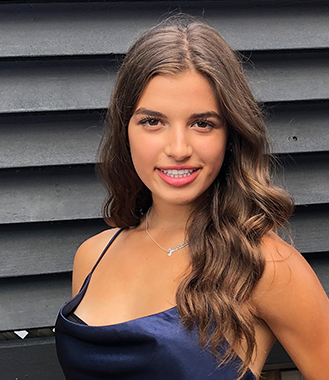 Jessica Kouleas (2020 cohort)
Major: Management, Economics and Finance
Hometown: Whitby, Ontario
How have you helped improve your community?
"I have helped to improve my community and inspire local change by supporting young athletes by being a member of the Action Team and have volunteered with the elderly.""
What does it mean to be named one of the inaugural Lang Scholars?
"When I got the email informing me that I had been named one of the Lang Scholars I was overwhelmed with excitement. $5,000 to only a few recipients and me being one of them was difficult to wrap my head around. I spent a month writing my application, and years building my resume of experience and am thankful that my achievements will be recognized here at the University of Guelph."
Why did you choose Lang over other business schools?
"I chose to study at Lang, over other business schools because I fell in love with Guelph. After only being a resident of Guelph for a little over a month I am certain that I made the right decision. Guelph has passionate professors, remarkable facilities, and friendly students."
At Lang, we are committed to developing leaders for a sustainable world. How do you think business can be used as a force for good?
"I think that business can be used as a tool to improve life because business symbolizes a promise of progression for the global economy. As social attitudes and beliefs change, new business ideas are inspired and as long as the economic system continues to expand, industries will remain, and jobs will follow. "
What do you hope to do with your career?
"I want to work in real estate. I believe that people who work in real estate are able to create something from nothing and see the beauty in the unknown. I aspire to utilize the skills and resources at Lang to allow me to have these abilities. "