Facilities and Research

Because of our donors, we are transforming how business is taught.
Thanks to the following donors we are more equipped to develop collaborative, team-oriented, global business leaders
who will act with a social conscious and be "leaders for a sustainable world."
Below are just a few examples of our incredible supporters.
---
A long time supporter of university education, Paul MacPherson's generous gift to Macdonald Hall provides business students at Lang with a common place on campus to connect, study and build their community. The entryway to the transformed building, now named the "Paul MacPherson Marketplace," includes collaborative study spaces and project rooms, a fair-trade coffee shop and Lang's Business Career Development Centre, The "Marketplace" also includes a room dedicated to the rich history of the building with artifacts and pictures of the women who called Macdonald Hall home for many years. MacPherson believes in the power of post-secondary education in improving and transforming lives, particularly for those who are economically or socially disadvantaged.
The president of Valcom, a Canadian owned and operated supplier of electronics and aerospace products. Over the past three decades, Paul has expanded and diversified his company from the original facility in Guelph, Ontario by opening offices in Ottawa, Halifax, Kingston and Vancouver.
"Macdonald Hall is like a home away from home," Matthew Hernandez, BComm student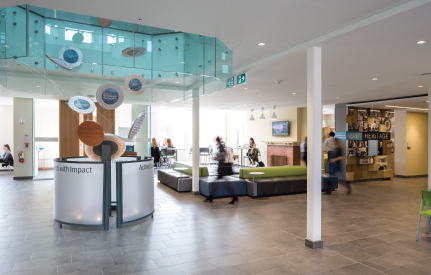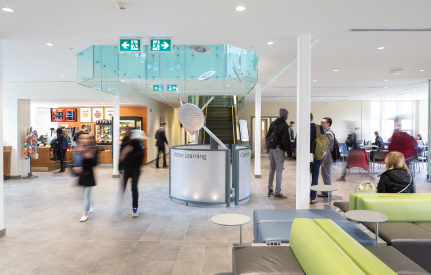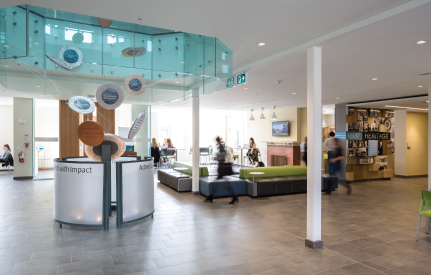 ---
The transformation of one of the University's largest lecture halls could not have been possible without the support of George Schmalz, Chairman of the Board for Smart Serve Ontario. The "Smart Serve Lecture Hall" or "MAC149" to alumni, is fitted with multiple 80" presentation monitors, flexible seating and mobile whiteboards. A truly "flexible" classroom, these amenities allow the instructor to customize each class based on the day's agenda, enhancing collaboration and teamwork. The residences original dining hall, MAC149 was transformed into a traditional lecture hall in the 1970's. During the recent transformation of Macdonald Hall, the traditional lecture space was enhanced to be a more accessible, flexible and collaborative learning space.
"I call it an 'infinitely flexible classroom.' You can start the class with everybody focused on the instructor and then move out to work on problems in groups" - Trent Tucker, professor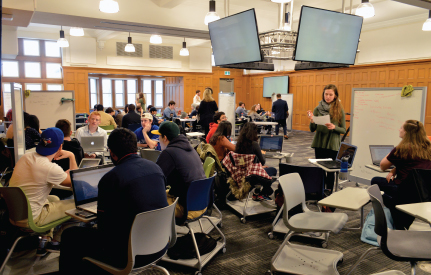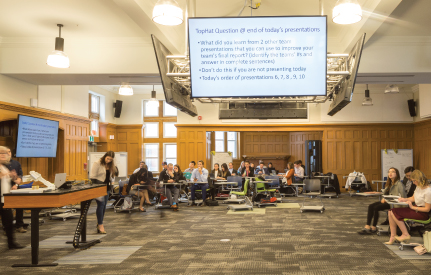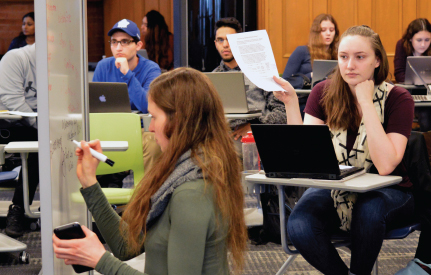 ---
For more than 70 years, the W.C. Wood Co. was a household name in Guelph. Known for its reliable household appliances and ethical business practices, this company once employed more than 1,000 staff in North America, with offices in Ohio, Mexico and Guelph. The W. C. Wood Foundation was established by the Wood family in 2009 to ensure a lasting legacy of community service for the family and its employees. The Foundation has supported the construction of a meeting room and student learning space in Macdonald Hall. The W.C. Wood Foundation Meeting Room is used by students and faculty of the Gordon S. Lang School of Business and Economics to learn and teach management practices that will establish leaders for a sustainable world. The chairs and tables are adjustable, allowing the facilitator to customize each seminar or workshop to their liking. Opening into the CPA Lounge, the room will enable and enhance academic and networking opportunities. Glass interior walls symbolize transparency and openness embraced by Lang as a guiding principle for students. The room will provide a primary study and interactive learning space for Lang's accounting graduate program.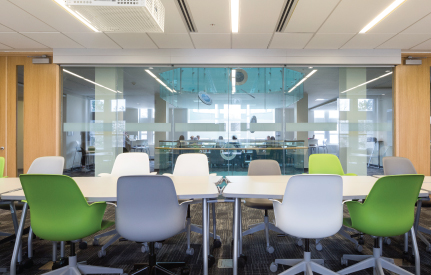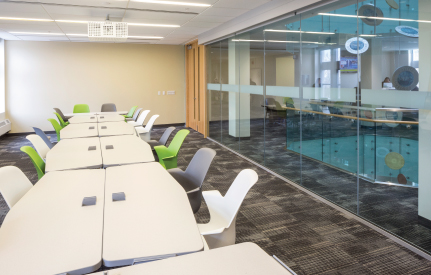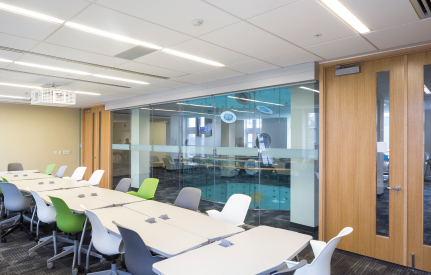 Longo's Food Innovation Research Lab
---
Exploring consumers' relationship with food is the focus of two food laboratories at the University of Guelph, including a state-of-the-art grocery store lab. The Longo's Food Retail Lab and the Schneider's Research Lab are designed to help U of G researchers better understand consumer decision-making, consumption habits and reactions to food advertising. Created to resemble an actual grocery store, the Longo's Food Retail Lab aims to gauge buyer behaviour patterns as consumers shop. Equipped with monitoring cameras and eye-tracking equipment, the mock store allows researchers to gauge consumers' responses to grocery store flyers or television advertisements, nutritional information and in-depth surveys both before and after visiting the store. Computer equipment in the neighbouring Schneider's Research Lab will allow researchers to evaluate participants' reactions to advertising.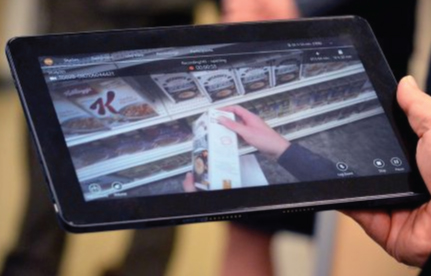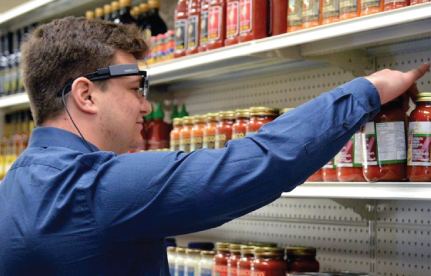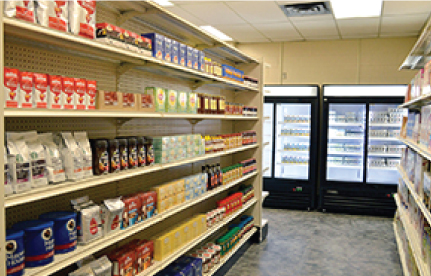 Donate to the Gordon S. Lang School of Business and Economics at U of G