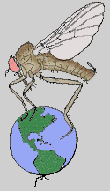 NADS Field Meetings
Field meetings of the North American Dipterists Society are held every two years at different venues in North America. The meetings provide an opportunity for North American dipterists to collect Diptera in a group situation and to exchange ideas during oral and poster presentations. In keeping with the informal nature of the Society, the meetings are organized on a volunteer basis by a dipterist who knows of a location that has meeting facilities for about 30-40 people and easy access to interesting habitats.
---
2024 North American Dipterists Society Field Meeting
Western Washington state, 2024
Exact dates and full details on the site will be provided in the Spring 2023 issue of Fly Times.
More information here: Field Meetings of the North American Dipterists Society
---
Previous NADS Field Meetings
2022, June 13-17 – Pinelands, southern New Jersey.
Organized by Jon K. Gelhaus.
Report by Jon Gelhaus and Gelhaus Lab in Fly Times 69: 52-61, Fall 2022.
2019, June 3-7 – Bull Shoals Field Station, Ozark Plateau, Missouri.
Organized by Greg Courtney and David Bowles.
Report by Greg Courtney and David Bowles in Fly Times 63: 39-44, Fall 2019.
2017, June 26-30 – Lubrecht Experimental Forest near Missoula, Montana.
Organized by Andrew Fasbender.
Report by Andrew Fasbender in Fly Times 59: 51-57, October 2017.
2015, June 7-11 – Living on the Edge cabin, Red River Gorge, eastern Kentucky.
Organized by Greg Dahlem with the assistance of John Stireman and Ron DeBry.
Report by Greg Dahlem in Fly Times 55: 46-50, October 2015.
2013, May 17-20 – Mississippi Entomological Museum, Starkville, Mississippi.
Organized by Richard Brown.
No report in Fly Times.
2011, June 7-11 – Timp Lodge of Brigham Young University near Sundance Ski area, Utah.
Organized by Riley Nelson.
Report by Riley Nelson in Fly Times 47: 25-32, October 2011.
2009, June 1-4 – College of the Redwoods, Del Norte campus, Crescent City, California.
Organized by Peter Kerr with the assistance of Steve Gaimari and Martin Hauser.
Report by Peter Kerr in Fly Times 43: 25-26, October 2009.
2007, August 13-16 – Western New Mexico University, Silver City, New Mexico.
Organized by Jim O'Hara.
Report by Jim O'Hara in Fly Times 39: 3-5, October 2007.
2005, August 5-9 – Malheur Field Station, Harney County, Oregon.
Organized by Greg Courtney.
Report by Greg Courtney in Fly Times 35: 2-5, October 2005.
2003, May 16-20 – Hocking Hills State Park, Hocking County, Ohio.
Organized by Greg Dahlem.
Report by Greg Dahlem in Fly Times 31: 3-4, October 2003.
2001, May 30 - June 4 – Sul Ross University, Alpine, Texas.
Organized by Frank French.
Report by Greg Dahlem & Frank French in Fly Times 27: 4-5, October 2001.
1999, May 24-28 – Camp Broadstone, Boone, Blue Ridge Mtns., North Carolina.
Organized by Brian Wiegmann.
Report by Brian Wiegmann in Fly Times 23: 3-4, October 1999.
1997, May 3-7 – New Ebenezer Retreat and Conference Center, Rincon, Georgia.
Organized by Dan Hagan.
Report by Dan Hagan in Fly Times 19: 4, October 1997.
1995, August 1-5 – Albergue de Montaña Sevegre, San Gerardo de Dota, Costa Rica.
Organized by Monty Wood and Manuel Zumbado.
Report by Brian Brown in Fly Times 15: 8, October 1995.
1993, May 14-16 – Piney Woods Conservation Area, near Lufkin, Texas.
Organized by Darlene Judd & Brian Brown.
Report by Darlene Judd in Fly Times 11: 2, October 1993.
1991, May 31 - June 2 – Southwestern Research Station, Portal, Arizona.
Organized by Brian Brown, David Grimaldi & Steve Marshall.
Report by Brian Brown in Fly Times 7: 2-3, October 1991.
1989, April 15-18 – Archbold Biological Station, Lake Placid, Florida.
Organized by Steve Marshall, Chris Thompson & Mark Deyrup.
Report by Fenja Brodo in Fly Times 3: 3, October 1989.
---
20 March 2023
J.E. O'Hara